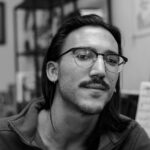 Constantine Jones
b.1992
Constantine Jones is a Greek-American thingmaker raised in Tennessee & housed in Brooklyn. They facilitate creative writing workshops & have displayed or performed work across New York City. They are the author of the novel, In Still Rooms (The Operating System 2020) and a collaborative chapbook with Portuguese visual artist Vicente Sampaio, Baleen: A Poem In Twelve Days (Ursus Americanus 2022).
Read Less Read More
[Ruins.In.Progress.] is an ongoing multi-modal poetry project combining elements of memoir, research, photography, sound-art & performance to document the collision of various aspects of my own identity as they exist with & further complicate my Queer experience. Landscapes of urban & rural construction sites / demolition zones / gentrification areas serve as the points of collision for these identities while also providing a language for me to explore the strange kinship I feel for other structures & spaces in constant flux.
PUBLICATIONS
Book, IN STILL ROOMS (The Operating System) [2020]
Poem "For the +" included in Hear Me: Voices of the Epidemic, sound & light installation at the NYC AIDS Memorial Park in commemoration of World AIDS Day [2020]
Poems "ABSTRACT—[for potential reality]" & "NAPSALM (for the +)—Book of Isaiah 61" selected for Indolent Books HIV Here & Now countdown to World AIDS Day series. [2019]

Contributor to Joanna C. Valente's #Survivor photo book (The Operating System, 2020) & interviewed for ongoing photo series exploring the aftermath of sexual violence.

Text art piece "Sorry But You Can't Come In" published at Yes, Poetry [2019]
Hybrid photopoem & sound art piece "VOICEOVER—SAPPHO" published in Interim [2019]

Hybrid photopoem "[ island bruise ]" & Poem "A NOTE ON THE TEXT—" published in Bombay Gin [2019]
Poem "ABSTRACT—[for potential reality]" published in Fugue [2019]
Poem "FOOTNOTE TO POLITICS1" & Story "Liver" published in SHIFT [2019]
Hybrid photopoem "[ news from below ]" published in Hematopoiesis [2019]
Hybrid photopoem "[ cloudy sunday ]" published in Stone Pacific Zine [2019]
Hybrid photopoem "[ please hold ]" published in Blood Tree Literature [2018]
Poem "THE GUT" published in The PEN Poetry Series [2018]
Contributor to HIV Awareness Project, And So It Happened [2018]

AWARDS / READINGS / WORKSHOPS OFFERED
[2020]
Poem For You / Stubborn Hope workshop @ Dec. Brooklyn Poets YAWP
Re-Visioning the Timeline fall poetry workshop @ Brooklyn Poets
Chorus of Selves summer poetry workshop @ Brooklyn Poets
Operating System Marathon Reading @ Sala Diaz, AWP San Antonio

Digital featured reader, Flight Recorder @ The Tank NYC
[2019]
Poem "Crossroad Blues / O, Deth (Reprisal)" voted Poem of the Year at Brooklyn Poets Annual Smackdown.
Performance of Deth Medley Blues project as headliner for CCNY MFA Reading Series.
Performance of "Ordinary Poem" at Walt Whitman Way Street Naming Ceremony in Brooklyn.
Poem "SCREENING" selected by Mark Doty as 2nd Prize Winner, Brooklyn Poets Walt Whitman Bicentennial Contest.
[2018]
Multimedia performance of [ Ruins.In.Progress ] as headliner for
Open Expression Salon, hosted by Lenox Café, Harlem New York.
EDUCATION
M.F.A. City College of New York [2017]
Discipline: Hybrid poetry / fiction / memoir
B.A. Middle Tennessee State University, Murfreesboro TN [2014]
Major: Creative Writing
Minor: German Language & Literature
WORK EXPERIENCE
Adjunct Assistant Professor, CCNY [2015—present]
Courses taught: First Year Composition / Writing For the Humanities / Advanced Prose Workshop / Intro to Creative Writing Workshop / Intermediate Creative Writing Workshop / Writing for the Social Sciences
Managing Editor, Fiction [2016—2020]
Publishing Assistant, Guernica [2015—2016]