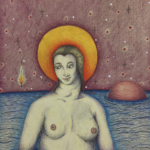 Creighton Baxter
b.1990
Through an interdisciplinary practice, Creighton Baxter researches spectral dimensions of touch, eroticism and transgender experience. At the roots of her process, drawing pulses across hinged disciplines, including performance and poetry. There is an enduring refusal to conclude which haunts her work, evident in the incremental transformations of surfaces or gestures. It is a slow transsexual time which visibilizes across her projects. Repeating with sensual difference.
Baxter's work has been shown in New York, Boston, Los Angeles, Berlin, Vancouver, and Belfast. She has participated in exhibitions and festivals at Boston University, Tom of Finland Foundation, Villa Victoria Center for the Arts, Visual Arts Center at UT Austin and Anthony Greaney. Her artwork has appeared in The New Inquiry, Gust Magazine, Art Papers, Rhizome, Big Red & Shiny, Art New England and Boston Art Review.
Creighton lives and works in Los Angeles and maintains her studio practice in a collective space.
Read Less Read More
Solo Exhibitions
- Vulnerable Evidence, Castledrone, Boston MA, 2018
Two Person Exhibitions and Performances
- Realigned Possession: Creighton Baxter & Miller Robinson, My_____ Projects, Los Angeles CA, 2020
- Object of Dread: Creighton Baxter & Steve Locke, Castledrone, Boston MA, 2018
- It Might Get Better: Creighton Baxter & Hayley Morgenstern, for Time, Situation, Dexterity at Charlotte Street Foundation, La Esquina Gallery, Kansas City MO, 2015
- It Might Get Better: Creighton Baxter & Hayley Morgenstern, Montseratt College of Art 301 Gallery, Beverly MA, 2014
- It Might Get Better: Creighton Baxter & Hayley Morgenstern, Howard Art Project, Boston MA, 2014
- It Might Get Better: Creighton Baxter & Hayley Morgenstern, Anthony Greaney, Boston MA, 2012
Selected Group Exhibitions and Events
- Onward, Boston Hassle, Boston MA, 2020
- Tom of Finland Art & Culture Festival: Plugged In, 2020
- Bright Future Ahead: A Benefit for Trans Wellness Center, Treehouse LA, Los Angeles CA, 2019
- Under a Dismal Boston Skyline, Stone Gallery, Boston University, Boston MA, 2018
- In Presence, Distillery Gallery, Boston MA, 2017
- HUSH-HUSH at The Stud, San Francisco CA, 2017
- Queer Territories, University of Texas Austin, Austin TX, 2016
- Topical Breech, Mainsite Gallery, Norman OK, 2016
- Trigger Warning, Coven Berlin and Kleiner Salon, Berlin, 2015
- Trigger Warning, Queer Arts Festival, Roundhouse Art Centre, Vancouver, 2015
- Time, Situation, Dexterity, Charlotte Street Foundation, La Esquina Gallery, Kansas City MO, 2015
- Performance GIFs, Rhizome.org, 2014
- The Highest Closet: Creighton Baxter, Bug Davidson, Sarah Hill, and Hayley Morgenstern, Montseratt College of Art 301 Gallery, Beverly MA, 2014
- Mujeres: Iron Maidens, La Galeria at Villa Victoria Center for the Arts, Boston MA, 2014
- Accumulation, Boston University, Boston MA, 2014
- SELFi.e, Womanorial, onlin exhibition, 2013
- Communion V, Bathaus, Jamaica Plain MA, 2013
- RE:Present Me, Anthony Greaney, Boston MA, 2013
- SUPERNOVA Festival, Washington D.C. , 2013
- Performance GIFs, Rhizome.org, 2013
- Performers Only, Bathause, Jamaica Plain MA, 2013
- Anthony Greaney/Salon Zürcher at Zürcher Gallery, New York NY, 2013
- Momentum: Boston LGBTQIA Artist Alliance, Anthony Greaney, Boston MA, 2013
- CAUTION, Golden Thread Gallery, Belfast Ireland, 2012
- Soap Box, Hillyer Art Space, Washington D.C. , 2012
- Open Studios, Anthony Greaney, Boston MA, 2012
- Persistence of Vision, The School of the Museum of Fine Arts Boston, Boston MA, 2012
- Communion IV, Anthony Greaney, Boston MA, 2012
- LUMEN Festival, Staten Island NY, 2012
- A Kind of Problematic Show, Howard Art Project, Boston MA, 2011
- Slutty Witchy Faggy Cats, Grace Exhibition Space, Brooklyn NY, 2011
- Allegorical Outfits and Fool's Play, 309 Hancock Gallery, Dorchester MA, 2011
- Here:Now, Ghost Gallery, Phoenix AZ, 2008
Talks and Lectures

- Visiting Artist Lecture, University of Illinois at Urbana-Champaign, Department of Gender & Women's Studies, 2021
- Visiting Artist Lecture, Boston University, Department of Curatorial Studies, 2021
- Guest Speaker with Body Hack, Rutgers University, Department of Women, Gender and Sexuality Studies, 2020
- Guest Artist, lecture, CalArts School of Dance, 2020
- Guest Artist, lecture, Lesley University, Department of Art History, 2019
- Gust Artist, lecture and studio visits, Massachusetts College of Art and Design, Department of Fiber Arts, 2018
- Panelist and Guest Artist, lecture, University of Massachusetts Boston, University Hall Gallery, 2018
- Guest Artist, lecture and workshop, University of Texas Austin, Departments of Art History and Performance Studies, 2016
- Panelist, University of Oklahoma, Fred Jones Jr. Museum of Art, 2016
- Guest Artist, lecture, University of Missouri Kansas City, Department of Art History, 2015
- Panelist, Charlotte Street Foundation's La Esquina Gallery, 2015
- Visiting Artist, lectures and workshops, Montserrat College of Art, 2015
- Visiting Artist, lecture and workshop, Metropolitan Arts Institute, 2011
Awards, Grants and Residencies
- Artist in Residence, Castledrone, Boston MA, 2018
- Fine Arts Diversity Council Grant, University of Texas Austin, 2016
- The Rose Hill Award for Performance Art, 2012
- Dean's Research Award, The School of the Museum of Fine Arts Boston, 2011
- Boit Award, 2009
Related Professional History
- Co-founder, 235 NSF Studios, 2018-Present
- Performer, Mark by Sarah Hill, Film, 2019
- Performer, Rule of Three by Bug Davidson, Film, 2014
- Performer, Raphael Motañez Ortìz, Museum of Fine Arts Boston, 2013
- Performance Assistant to Amanda Coogan, Museum of Fine Arts Boston, 2011
- Cultivating Commonalities: A Photographic Exchange, Scottsdale Museum of Contemporary Art, Scottsdale AZ, 2008
- Performer, JARBAS LOPES: Cicloviaérea, ASU Art Museum, 2008