Past Event
Jürgen Baldiga: Wie die Hölle, so die Erde. Wo die Hölle, da die Erde
Halle für Kunst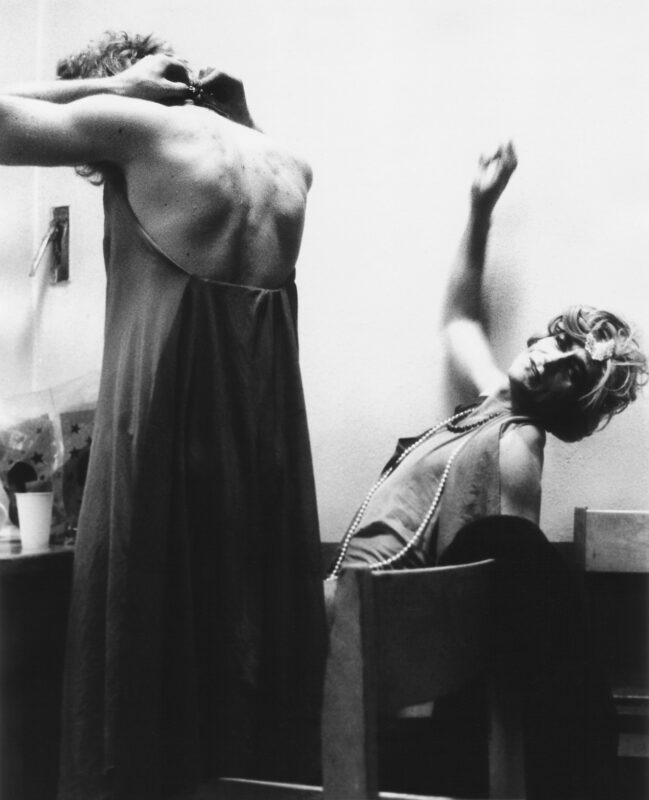 Jürgen Baldiga (*1959 in Essen, †1993 in Berlin) was not only a photographer, a chronicler of his time—the West Berlin gay, and "Tunten" scene during the AIDS crisis in the 1980s. He was also a poet, activist, and "cook / bartender / lover / prostitute / casual worker," as he described himself in a diary entry. His amateurish use of a reflex camera stemmed less from an ambition to become an aspiring photographic artist than from his decision in 1985, a year after his HIV diagnosis, to spend eight years depicting what would soon be gone. In Baldiga's words, "Since 1989 full (clinical) picture, or rather: never put off till tomorrow what you can do today."
At the Halle für Kunst, Jürgen Baldiga's artistic and activist life practice, is being retraced in collaboration with the estate manager and artist Aron Neubert in a first retrospective exhibition of his work, which the curator Frank Wagner once described as "radically realistic, without claiming to be authentic."
For the first time, the never shown sculptural works and excerpts from Baldiga's total of 40 diaries, which he kept from the late 1970s until his death, are presented here together with black-and-white photographs. The photographs reflect on Baldiga's niche sociotopes—first and foremost that of the "SchwuZ-Tunten" and partly derive from two folders covered with red/blue plush fur. Baldiga here had collected his photographs in cheap plastic sheets and arranged them into dialectical pairs, in his own vision of a family.
Many of Baldiga's works conserve the burning desire to live while documenting the loss of a "culture of possibility" during a time of inhumane AIDS policies directed at those on the margins of society: queer people, people with substance use disorder, sex and immigrant workers, unhoused people, or just outcasts who were perceived as a risk to the "heterosexual public health" in the Federal Republic of Germany at the time. One might think here of Douglas Crimp's "list" of reclaimed, lost spaces, actions, and ideals of a queer lifeworld, which during the AIDS crisis came with the toll of death and were disparaged as abject. [more]
December 1, 2023, 8 pm: Screening at Filmclub der polnischen Versager*innen
In cooperation with Halle für Kunst, a screening of Jasco Viefhues documentary Rettet das Feuer (2019) will take place on World-AIDS-Day at Filmclub der polnischen Versager*innen. The director Jasco Viefhues and Aron Neubert will be present.
Filmclub der polnischen Versager*innen was founded by Elisa R. Linn, Tiphanie Kim Mall and Flora Klein at the Club der polnischen Versager in 2021. On select evenings they screen selected experimental films and run a bar. Der Club der polnischen Versager was founded in the 1990s by Polish artists living in Berlin and along with Schokoladen, is one of the last activist-run living, working and cultural spaces in Berlin-Mitte.
Curated by Elisa R. Linn in collaboration with Aron Neubert
---