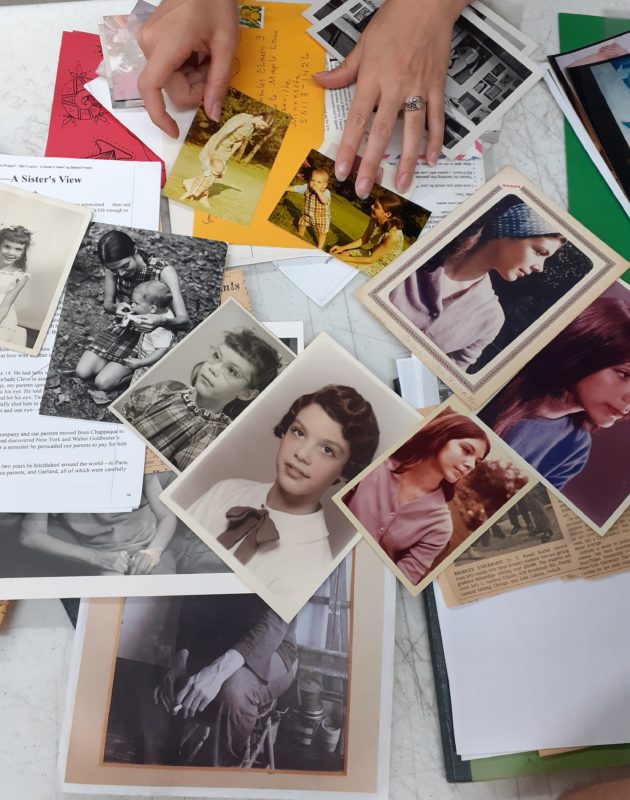 Revisiting Artist Member Garland Eliason-French's archives with niece Laura Eliason, photographs and ephemera, 2019.
The Archive Committee started in January 2020 as a community-based archive initiative to collectively develop and re-envision the strategic planning, BIPOC racial justice frameworks, and collections development policies and management of the Archive Project & Registry initially organized by Tracy Fenix, former Artist Engagement & Archive Manager with support from Kyle Croft, Programs Director. The Archive Committee is now lead and organized by Kailee Farber, Archivist at Visual AIDS.

Collective Archive Committee Members are:

Shane Aslan Selzer
Shane Aslan Selzer is an artist whose practice engages micro-communities to expand on larger social entanglements such as critical exchange, critique and failure.Selzer is a founding member of the Social Action Archive Committee that is currently developing a new project with The Carl George/ Ross Laycock/ Felix Gonzalez-Torres Archive at Visual AIDS in New York while in residency at Triangle Arts Association, Governor's Island, NY. Selzer is the Co-Editor of, What We Want Is Free: Critical Exchanges in Recent Art (SUNY Press, 2014), and part-time faculty at Parsons, The New School for Design.

Katherine Cheairs
Katherine "Kat" Cheairs is a filmmaker, educator, curator, activist and community artist. Cheairs is a co-curator of Metanoia: Transformation Through AIDS Archives and Activism, an archival exhibition focusing on the contributions of Black women, transwomen of color, and women of color HIV/AIDS activists from the early 1990s to the present. Kat is a member of the What Would An HIV Doula Do? Collective. Cheairs holds a Master of Fine Arts in Film and Television Production from the Dodge College of Film and Media Arts at Chapman University and a Bachelor of Arts in Political Science from Tufts University. Cheairs designs and oversees the implementation of free, high quality art education programs for youth and adults as the Director of Education at Howl! Happening: An Arturo Vega Project, a non-profit art gallery dedicated to preserving the artistic legacy of the East Village and Lower East Side.

Ursula Davila
Ursula Davila-Villa co-manages the Kurt Kocherscheidt Estate and has worked on an advisory role with artists such as Luis Camnitzer, Lorraine O'Grady, Carolee Schneemann, Elfie Semotan, and the Estate of Serge Spitzer. From 2012 to 2017 she was a Partner at Alexander Gray Associates where she managed the artistic and operational areas of the gallery including: artists liaison and career development, exhibitions, publications, institutional acquisitions, curatorial and research projects, and supervision of gallery staff. From 2005-2012, she was Associate Curator of Latin American Art at The Blanton Museum of Art at The University of Texas at Austin where she directed and supervised exhibitions, permanent collection, acquisitions, publications, ongoing research, and established the first international artist-in-residence program. She curated several exhibitions at the Blanton, among them The New York Graphic Workshop 1964–1970: Luis Camnitzer, Liliana Porter y José Guillermo Castillo (2008), Eclipses for Austin a project by Pablo Vargas Lugo (2009), Recovering Beauty: The 1990s in Buenos Aires (2011), The Nearest Air: A Survey of Works by Waltercio Caldas (2013), among others. In 2012, she was co-curator of El Panal/The Hive: Third Poli/Gráfica Triennal of San Juan de Puerto Rico. She completed her M.A. in Museum Studies at New York University in 2005, and holds a BA in architecture and urbanism from the Instituto Tecnologico y de Estudios Superiores de Monterrey, Mexico, Université Laval, Quebec, Canada, and the Technische Universiteit Delft, Netherlands. She has lectured and published internationally on contemporary art and museum studies. She lives in Brooklyn, New York.

Kyle Croft, Programs Director at Visual AIDS
Kyle Croft joined Visual AIDS in January 2018. He coordinates programs related to the Archive and Artist+ Registry, including annual exhibitions, the International Curatorial Residency, and Day With(out) Art video commissions. He also manages Visual AIDS' publication program, producing scholarship on artists who have been underrepresented in cultural histories of HIV and AIDS. He holds a MA in Art History from Hunter College, where his thesis about the origins of Visual AIDS' Day With(out) Art received distinction. He is also a member of the VHS Archives Working Group at the CUNY Graduate Center, which considers how to best care for analog archives related to vulnerable and marginalized subjects. His writing has appeared in Art in America, Sleek Magazine, and Hyperallergic. In 2018, he co-curated the exhibition Cell Count for Visual AIDS at La MaMa Galleria. He has assisted with exhibitions at the Museum of Modern Art, the Whitney Museum of American Art, the New Museum, and the MIX Queer Experimental Film Festival.
Kailee Faber, Archivist at Visual AIDS
I have a Master's Degree in Library and Information Science with a certificate in archives and preservation from Rutgers University. Along with my educational training, I have experience working at a number of cultural institutions like the Institute of Jazz Studies, The Studio Museum in Harlem, The Womanist Working Collective, The Free Library of Philadelphia, and independent artist studios.
Tracy Fenix, former Artist Engagement & Archive Manager at Visual AIDS (2018-2021)
Tracy Fenix is a native Tejana cultural memory caretaker, curator and public space organizer born and raised in El Paso, Texas and currently based in Los Angeles. They are attending USC's Dual Degree Master's in Urban Planning and Curatorial Practice program. Tracy was formerly the Artist Engagement & Archive Manager at Visual AIDS. Fenix recently worked for the Brooklyn Public Library as the Culture Pass Community Programs Coordinator, where they coordinated 41 cultural public programs throughout 16 Brooklyn Public Library branches with 7 cultural institutions during March-June 2019. Fenix currently is a 2019 Fellow for the National Association of Latino Arts & Cultures Leadership Institute.Fenix served as the 2016-17 Curatorial Fellow at Wave Hill and were responsible for coordinating exhibitions and programs for Glyndor Gallery, including Outcasts: Women in the Wilderness; The Jackie Brookner: Of Nature Symposium; and the 2017 Winter Workspace residency and 2017 Sunroom Project Space programs. Fenix is a 2017 fellow at the Art and Law Program in New York and an 2017 Innovative Cultural Advocacy Fellow at the Caribbean Cultural Center African Diaspora Institute in East Harlem. Previously, Fenix worked for the Latino Arts Residency Program (LARP) at the Emma S. Barrientos Mexican American Cultural Center in Austin, Texas, and coordinated logistics for the LARP 2016 residency opening.
Cea / (Constantine Jones)
Cea / (Constantine Jones) is an interdisciplinary thingmaker, poet, workshop facilitator, and member of the Visual AIDS Artist+ Registry. Their practice is largely collaborative in nature and rooted at the intersections of HIV/AIDS advocacy / archival as cultural care-work / poetry as catalyst for social instigation. They are the author of the hybrid print-document, IN STILL ROOMS, published via The Operating System/Liminal Lab--an all-access experimental platform for resource dissemination and anti-hierarchical peer-to-peer learning--where they also design workshops dedicated to archival engagement. Cea has conducted research into the overlap of HIV/AIDS and Greek-American histories at the LGBT Center Archives, and is a member of the collective, What Would An HIV Doula Do? They hold a Masters of Fine Arts from CUNY, City College, where they lead workshops in poetry and hybrid writing modalities.
Caitlin McCarthy
Caitlin McCarthy (they/them) is the archivist at The LGBT Community Center in New York. Before joining The Center as its first staff archivist, they worked in Museum Archives at The Metropolitan Museum of Art and earned a Master of Library Science degree, with a concentration in Archives and Preservation of Cultural Heritage Materials, at CUNY, Queens College. Their work focuses on expanding access and self-archiving strategies in community archives, as well as applying queer, feminist, and critical race theories to archival practice.

Cherry Montejo
Cherry Montejo is an Archivist working with not for profit organizations and academic institutions to launch archival programs through the discovery, arrangement, preservation, and activation of collections. Her clients include The Trisha Brown Dance Company, where she oversaw the processing of the company's diverse holdings and initiated a multi-year digital preservation project, as well as Hunter College, where she implemented a wide-ranging strategic processing plan in preparation for the College's 150th Year Anniversary. She also works with individuals on managing private collections and placing relevant materials with leading cultural institutions. Cherry is a member of the Society of American Archivists and The Archivists Round Table of Metropolitan New York.

Sur Rodney (Sur)
Sur Rodney (Sur) is a writer, curator and archivist. In the wake of the HIV/AIDS pandemic, his work with artists' estates led him to serve on the board of Visual AIDS between 1995–2010 and help establish the Frank Moore Archive Project. He's written for Visual AIDS' DUETS monograph honoring Nicolas Moufarrege, and co-curated exhibitions for Visual AIDS, most notably Arts Communities/AIDS Communities: Realizing the Archive Project (1996); A Living Testament of the Blood Fairies (1997); and NOT OVER: 25 Year of Visual AIDS (2012).

Anthony Rosado
Anthony Rosado is a Nuyorican Afro-Boricua Queer storyteller. Rosado merges anthropology, art-history, literature, visual art, performance, and creative skill-shares. As Founder of Testourmonials, Rosado utilizes curation to share technologies for the autonomous collecting, preserving, and glorifying of stories that document community-driven cultural conservation. His artworks and choreography address identity, ancestral legacy, reciprocating love, and knowing true stories. Rosado is a Visual AIDS Artist Member featured in the Artist+ Registry. Rosado holds a BA in Theater & Dance from Trinity College.

J Soto
J. is an arts administrator, artist, and consultant. His work comes from a place of generosity, and he works in a variety of media, most recently through writing about dance. He is invested in the intersectional community histories and present of queer people of color and disabled people and how to create more equitable practices and access to resources in the arts and dance field. He identifies as a non-disabled ally. His work is deeply influenced by experiences as a queer transgender Chicano who grew up in the Bay Area with roots in Southern Arizona and the borderlands. He currently works as the Programs and Inclusion Manager at Eyebeam.


---