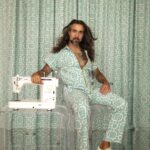 Aaron Cobbett
b.1972
Starting his career in the late 1980's, Aaron Cobbett worked as a window dresser at Bergdorf Goodman by day and documented the thriving East Village drag scene by night.
These disparate cultures, projected onto the grim backdrop of the AIDS Crisis formed the foundation of his aesthetic.
In the 1990's his high concept, color-saturated images of club kids, drag queens, and celebrities became an important and immediately recognizable part of the queer cultural canon.
Moving freely between textiles, video, installation and photography, his work is characterized by high craft, deadpan wit and harsh glamour.
His work has been shown at The FIT Museum, The Leslie-Lohman Museum, The New York Historical Society, and The Louvre in Paris, and galleries in the US and Europe.
He's had two monographs published: Super Eros in 1999 and COBBETT in 2008.
He lives and works in Brooklyn.
Read Less Read More
Education
Bachelor of Fine Arts
New York University, Tisch School of the Arts, Department of Photography and Imaging, New York, NY
Publications
2008 Cobbett, monograph, H&O Editions
2000 Super Eros, monograph, Bruno Gmunder
Awards and Residencies
Fall 2022 Millay Arts, Artist in Residence, Austerlitz, NY
Fall 2021 The studios at Key West, Artist in Residence Key West, Fla.
Summer 2021 WMCI/Open AIR, Missoula Public Library, Artist in residence, Missoula, MT Spring 2019 Yaddo, Artist in residence, Saratoga NY
Summer 2018 Instinct Berlin, Artist in residence, Berlin Germany
Spring 2018 MASS MoCA, Artist in residence, North Adams, MA
Selected Exhibitions
Solo Shows
2011 The Louis Ramos Project, Envoy Enterprises NYC
2011 Aaron Cobbett, Envoy Enterprises NYC
2008 Cobbett, Artmen Gallery, Paris
2008 Cobbett, Wessel & O'Connor NYC
2007 Flower Show Catherine Clark Gallery, San Francisco
2004 Pin Up, Leslie-Lohman Museum of Art, NYC
2003 Through, Debs & Co. NYC
2001 Lady, Debs & Co. NYC
1999 Aaron Cobbett, Debs & Co. NYC
1998 Portraits, Debs & Co. NYC
1998 Super Eros, Bruno's, Cologne, Germany
Group Shows
2022 The Lavender Flair, Clamp Art, NYC
Towards a Totality of Effect, Gallery 709, Missoula, MT
Camp@Clamp, Clamp Art, NYC
2019 New Works from Faculty & Alumni NYU / Tisch Institute of Emerging Media NYC
2019 Out / Loud Wessel + O'Connor Fine Art Lahaska, PA.
2018 SPECTRUM: Exploring Gender Identification, MCLA Gallery 51 in North Adams, MA.
Macho, Instinct Gallery Berlin, Germany
2017 Tattooed New York, New-York Historical Society
2016 Stark Imagery: The Male Nude in Art
Benton Museum at the University of Connecticut
2015 Digital Exhibition, The Portrait Collection, The Louvre Museum, Paris
2013 Making Waves, Daniel Cooney Gallery NYC
2010 TATTOO, Kathleen Cullen Gallery NYC
Shameless, Parlor Gallery Asbury Park NJ
Queer Portraits, Espacio Menosuno Madrid Spain
2009 Drag, World of Wonder Gallery, Los Angeles
2008 Guys We Would F*ck, Monya Rowe Gallery NYC
2004 Double Take, ANP Gallery NYC
A Taste of Spring, New York Academy of Sciences NYC
2002 Love Spy, Video, Museum of Sex NYC
2001 The Corset: Fashioning the Body, FIT Museum NYC
2000 Looking at Him Looking Back, Clifford Smith Gallery, Boston
1999 The Choice, (selected by Frank Moore) Exit Art gallery, NY