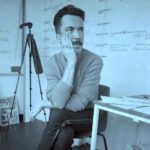 Aaron James Murphy
b.1988
1988, London, United Kingdom
Lives, studies and works in Hastings, East Sussex, UK
Read Less Read More
Aaron James Murphy is an interdisciplinary artist whose practice spans writing, photography, sculpture and painting. A diversified practice is consolidated by ongoing research exploring the historical and contemporary discourse of Gay Rights Movements and AIDS/HIV.
Archives are a prominent point of departure in Aaron James Murphy's practice and theoretical discourse. This enables access to a collective memory bank, rehabilitating the lives and actions documented into the contemporary sphere.
Conservative political doctrine has developed a burgeoning engagement with social anthropology. Issues related to societal pressures, ideologies and stigma in an autobiographical and biographical context are central themes.
Gay Rights Movements and AIDS/HIV discourse has fuelled Aaron James Murphy's interest in the overlap of the private and public, candidly documenting his own experiences and diagnosis.

A research lead practice has developed and eclectic approach to traditional and non-traditional materials, which has resolved in an aesthetic vocabulary evocative of both Minimalism and Conceptual Art.
Education
2017-2019 Fine Art Practices BA (Hons)
2015-2016 Access to Higher Education – Humanities
2010-2011 Art & Design BTEC National Diploma

Group Exhibitions
2019 – Collusion, Stade Hall, Hastings, UK
2019 – Life and Decay – Hastings Arts Forum, UK
2017 - Stade Hall Show, Hastings, UK
2017 - Space: Installation Project, St Leonard's on-sea, UK
2017 - Society of Emerging Artists, UCH, UK

Solo Exhibitions
2019 – Exposure: Project Space, UCH, UK
2018 – Curve Gallery, UCH, UK

Work Experience
2018/19 - Student Ambassador and peer mentor
2017/18 - President of Contemporary Fine Art Society
2017/18 – President of Hastings Social Society
2017/18 – Student Enhancement Programme Manager, Brighton Student Union
2017 - Society Secretary: Society of Emerging Artists
2017 - Society Secretary: Contemporary Fine Art Society

Collections
Private collections – UK, USA, France, Ireland
Publications
Tough Cookie Zine.
Gaslighting; Exploring Domestic Abuse & Stories from Survivors.
January 2021.