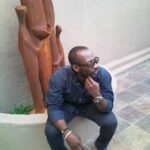 Adebayo Idris was born 2nd April, 1977 in Lagos, Nigeria. He has participated in national and international exhibitions including 'Wealth' (2000) and 'Nigerian Gold' in New York (2001).
Read Less Read More
Adebayo Idris Visual was born in a small province in lagos states,nigeria 3,000m above the sea-level, in the southern area of the fortier lagos.he started drawing and painting at the age of seven- animals,human figure mostly''- and he says, his techniques and styles evolved as he he grew older and matured in the time he spent in different africa country.his inspiration for the human figure and study of anatomy really make an huge impact in his work today showing the african aesthetic feel and originality in his work.

he has been painting professionally his entire life adult life and has the ability to skillfully capture the eye and imagination of his audience.he says he had never had any former training in art.in any aspect,he opposes the concept.''going to an art school can only teach you the history of art.it can tech you different art times.the styles and the great master,but it cannot teach you to paint from the soul.this must be born in you.for me great art is an expression of an impression communications of ideas with the mediums you are familiars with.and that is freedom.
I m inspired by all the great expressionist who have gone before.
Adebayo's unique style of brushstrokes and the evocative colors composition has made him different in his african style and approach.his art is rarely concordant blend of colors and strokes which set for an eye-catching vibrancy.Although his colors are bold and imaginative,also compelling to his work.''when i see an image that strikes me,i try to flash it on a canvas before it flip away from my memory.
for Adebayo s, it is all about passion-passion for his family,his art, his music and friends.
Mr. Adebayo Idris Adisa is a curator in the Museum Division of Centre for Black and African Arts and Civilization (CBAAC). He holds a Bachelor of Arts in Visual Arts from the University of Lagos, Nigeria and is currently a student of art history at the same university. Adebayo teaches arts on a part-time basis and also takes students on educational tours through the CBAAC museum.
As an artist and a curator, he has been involved with childhood development activities, such as the annual children's day exhibition and children's cultural festival. He is engaged in the planning, organization, and implementation of several exhibitions.