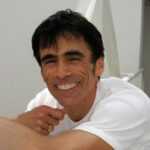 Birth Place: Athens, Greece BFA, Open Major, 1983 California College of Arts, Oakland California For the last 5 years I've been working on the Sculpture and painting Series, " Look! Reincarnation exists, I want to come back. The painting studies reflect the shapes of the sculptures, The Series is based on my personal experience of survival and renewal, which I feel is a universal theme and story many share.
Read Less Read More
The shapes in the paintings are from the sculptures series titled," Look ! Reincarnation Exists, I want to come back " . The shapes of the sculptures are reflected in these latest studies of Acrylic on paper for larger paintings on canvas. Layered over top of one another with solid and transparent colors. Grouped together in random patterns with bright acrylic colors on paper. The sculptures represent flight and so do the paintings with the soaring shapes painted across the paper.
1998-2012 Grant Recipient Visual Aid, San Francisco California April 2000 Group Show, Visual Aid Artists, Catholic Charities, San Francisco September 2000, Group Show, " Look West " Space 743 Folsom San Francisco August 2003, Visual Aid Group Show, " All Of Us " Catharine Clark Gallery, San Francisco June 2004 Visual Aid Group Show, At San Francisco LGBT Community Center. September 2006, Photography Exhibit, " Around San Francisco " San Francisco Medical Center, San Francisco June 2007, Photography Exhibit, " Ocean Beach " San Francisco Medical Society, San Francisco 2008 to 2012 Research and development for sculpture and painting series for the Project " Look Reincarnation Exists " Series Construction of sculptures and development of paintings from the sculptures. March 2013 Grant Recipient Visual Aids New York, NY. January 2014 March 2014, Exhibit Hearth Reality San Francisco " Studies for The Let's Come Back Series "