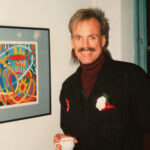 Alexander Carl Bratenahl
1946–1993
Alexander Bratenahl also known as Carl by his close friends and family, lived and painted in Inverness, California. When he was a teenager, Bratenahl began studying art seriously at a private college prep academy on the East Coast. At Stanford University, he was a student of the noted painter Frank Lobdell (1921-2013), who is often associated with the Bay Area figurative movement and Bay Area abstract expressionism. His work progressed from his early Andrew Wyeth-influenced paintings, to the surreal, politically charged works, layered in bold, brightly-colored strokes on huge canvases, to smaller and more elegant abstract pieces he created after he became ill, created to lift the spirits of the fellow patients he showed during chemotherapy treatments.
"That transformation after his diagnosis was so amazing and so powerful," his sister, Laura Alderdice, remembered. "In some ways the smaller pieces are larger than the big pieces because they inspired so many people. He became so powerful in his illness."
- Above info from Paul Liberatore's article "Two decades after he died of AIDS, a charismatic gay artist is being celebrated in West Marin"
Read Less Read More