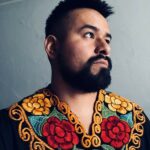 Alexander Hernandez
b.1986
Alexander Hernandez was born in Oaxaca, Mexico and raised in Grand Junction, Colorado. He received his MFA from California College of the Arts in San Francisco, CA in 2012, and his BA in Painting & Drawing from Rocky Mountain College of Art & Design in Lakewood, CO in 2007. He lives and works in San Francisco, CA. He works as social worker by day and artist by night
Read Less Read More
Growing up as a sissy-boy who hated gym, craft was a way to create my own safe space where my love of American pop culture and Mexican upbringing could coexist. Through stitching my work explores intersectional identities rooted in immigrant experiences, gender expectations, HIV+ survival, and queer sensibilities. I braid traditional quilting techniques with digitized prints, using colors and patterns that both clash and complement each other. Through sewing I create Frankensteinian-like work that embraces layers, unraveling threads, and raw edges. In the process I challenge gender roles and acculturation anxieties through visual code switching.
Education
2010-2012 MFA Studio Practice
California College of the Arts (CCA)
San Francisco, CA
2004-2007 BFA Painting and Drawing.
Rocky Mountain College of Art and Design (RMCAD)
Lakewood, CO
Selected Exhibitions
Selected Exhibitions
2020: Mandatory Color. Museum of Texas Tech University. Lubbock, TX
Material Intentions. FLXST Contemporary. Chicago, IL

Bay Area Visual Artist Exhibition. Ever Gold [Projects]. San Francisco, CA

De Aqui y de Alla (Of Here and There). VAE. Raleigh, NC
Reflections on Exile. Root Division. San Francisco, CA
Borders-Whats up with that. Civil Disobedience Festival. Athens, Greece
2019: Beyond the Surface. St. Louis Artist Guild. Clayton, MO
Cuerpos Unidos. Clamp Light Artists Studios and Gallery. San Antonio, TX
Museum of Human Achievement. Austin, TX
Latino Art Now. MACLA. San Jose, CA
Gallery for Broken Hearts. Code and Canvas, San Francisco, CA
2018: 5th International Textile Symposium. Mark Rothko Center. Daugavpils, Latvia.
Green Book. Southern Exposure. San Francisco, CA
/Ker/. 1337 Gallery. San Rafael, CA
J-Pegs. Strut. San Francisco, CA
Craftivism HQ. Kings Artist-Run Gallery. Melbourne, Australia
#UndocuJoy. Galeria de la Raza. San Francisco, CA
15 Year Anniversary exhibition. Root Division. San Francisco, CA
2018:Craftivism HQ. Kings Artist-Run Gallery. Melbourne, Australia
#UndocuJoy. Galeria de la Raza. San Francisco, CA
15 Year Anniversary exhibition. Southern Exposure. San Francisco, CA
2017: Renegade Fibers. Marin MOCA. Novato, CA
Collection. Elsewhere Museum. Greensboro, NC
I see You. Comalito Collective. Vallejo, CA
2016: Me and You . Living Arts Center. Mississauga, ON Canada
World Of Threads Festival. Oakville, ON Canada
AiOP Orlando PLAY! Dr Phillips Performing Art Center. Orlando, FL
48th Annual Textile Exhibit. Fremont, CA
Worlds of Thread Festival. Living Arts Centre. Oakville, Ontario. Canada
1er Capitulo. Mextasis. Brooklyn, NY
Sweet 16. Coagula Curatorial. Los Angeles, CA
Blend 2016. LexArts. Lexington, KY
Fathers, Brothers, Sons. Maryland Institute College of Art. Baltimore, MD
Woven Worlds. Alto Gallery. Denver, CO
Open Engagement Alternative Exposure Open House. San Francisco, CA
2015: Macho Menos. The LGBT Center, San Francisco, CA
Crank. Southern Exposure. San Francisco, CA
2014: Lexibition. Lexington Gallery, San Francisco, CA
2013-2014: Strange Bedfellows. Root Division. San Francisco, CA
Miami Beach Urban Studios. Miami, FL
Hanwerker Gallery. Ithaca, NY
A+D Gallery. Chicago, IL
Samek Art Gallery. Lewisburg, Pennsylvania
2012: Searching for Queertopia. Galeria de la Raza. San Francisco, CA
2011: Home After Dark. Galeria de la Raza. San Francisco, CA
2010 : Art is for Queers. California State University. Sacramento, CA
Domesticity Unhinged. Playspace Gallery. San Francisco, CA
2009 : Windowstratus. Other Side Gallery. Denver, CO
The Power of Then. Museo De Las Americas. Denver, CO
2008: Space Invaders. Museo De Las Americas. Denver, CO
2007: Mouth Amusements. Sliding Door Gallery. Denver, CO
Fabrications. Institute of Experimental Studies. Lakewood, CO
Grants, Awards and Residencies
2017 Spring Residency. Elsewhere. Greensboro, NC
2016 Art in Odd Places Grant. Orlando, FL
2015 Marigold Project Grant. Counter Pulse. San Francisco, CA
2014 Creating Community Grant. Queer Cultural Center. San Francisco, CA
2013 Alternative Exposure Grant (collaboration with Queens of the Castro)
Southern Exposure. San Francisco, CA
2012-2013 Art residency program. Root division. San Francisco, CA
2012 Latino Fellowship at Mission Education Center. San Francisco, CA
2011 CCA Travel Grant. Oakland, CA
2007 RMCAD Portfolio Scholarship. Lakewood, CO
Publications and Lectures
5-15-2016 "Masculinity and Changing Cultural Perspectives". Maryland Institute College of Art.(MICA) Baltimore, MD. Panel Discussion
06-05-2012."In Mexico, Mixed Genders and Muxes", The Picture Show: photo stories from NPR
11-19-2012" La Bamba 2 :queer Chicano/as in cinema", Women & Gender Studies, LGBT Resource center, Cross Cultural Center (CCC) Panel discussion moderated by WGS Professor Tania Hammidi