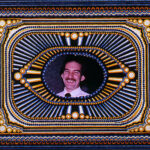 Amos Beaida AKA Famous Amos
Amos Beaida was an Artist who created beautiful artwork despite many obsticles. Amos was a diabetic who suffered from AIDS, and had impared vision in one eye due to AIDS related CMV Retinitis. He was born 5/3/60 in Auburn, CA and lived in Weimar, CA until 1978. He then moved to Portland, Oregon for a year or two, then to Beaumont, Texas for a few years. He settled in Mountain Home, Idaho and lived there for many years until his death. He loved the outdoors, skiing, working on his Jeep, and was also an animal lover. He liked to play cribbage with friends and was a very talented Artist. He started drawing when he was in his late teens and early twenties. He started out overlapping geometric designs and progressed into the style you have seen using a fine felt tip pen on paper to create intricate and colorful jewel like designs using tiny circles of color, a form of stippling. Amos passed away in March of 2009. He was loved by family and many many friends. He will be missed very much, but the legacy he left behind will be remembered and cherished forever. His family would like to reach out to the public and share his beautiful and unique drawings with the world.
How the Drawings were Created
Amos Beaida's artwork is made by first outlining the pattern in pencil. He started with the boarder and worked his way inward. He then went over the outline in pen and then filled in the design, using a fine felt-tip pen, to create tiny circles, which make up the design. The designs are very intricate and would take an average of 60-70 hours to complete.
Read Less Read More
Artist's Achievements
Amos received an Award of Merit for the Visual AIDSShare Your Vision Competition in 2003 and was featured in A&U Magazine for his achievement. He was diagnosed with Aids in 1993, and lost vision in his left eye due to Aids related CMV Retinitis in 2002. The Share Your Vision competition helps raise awareness of Aids related CMV Retinitis around the country.