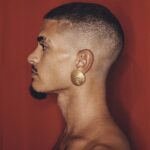 Anthony Rosado
b.1991
Anthony Andy Rosado is an interdisciplinary artist and radical thinker. Since 2013, he/she/they has produced immersive, multimedia art salons at Make The Road NY, May Day Space, Starr Bar, Brooklyn Fire Proof, Rush Arts Philanthropic, David & Schweitzer, and Five Myles Gallery.
S/he developed and facilitated Afrocentric performing arts curriculum for Urban Arts Partnership, Creative Academy, Girls INC, and Ifetayo Cultural Arts Academy. Rosado co-authored "Making History Bushwick," with Arts in Bushwick. S/he has written essays published by Medium, Cultural Weekly, Posture Magazine, The Tenth Magazine, and Imagining: A Gibney Journal.
Rosado produced "ARCANUM," the Queer|Art 2020 annual exhibition, featuring ancestral art s/he co-assembled with The LGBT Community Center and the Schomburg Center for Research in Black Culture. And, in June 2021, curated the Visual AIDS exhibition "Re-HomeComing." S/he is a housing rights activist. Their protest art addresses identity, home, origins legacy, and historicity.


Read Less Read More
Anthony Andy Rosado is a biracial Boricua cultural curator and memory worker native to Bushwick, Brooklyn. He/they/she curates interactive exhibitions and literary anthologies that influence audiences to invest in preserving stories of autonomous cultural conservation. His multimedia productions provide exposure and platforms for marginalized artists, artisans and community organizers.

PERFORMANCE

Dancer

Deborah Goffe

Scapegoat Gardens / 2012 - 14

Dancer

Carmen Caceres

Green Space / 2013 - 15

Dancer

Leyya Mona Tawil

The Tank NYC / 2015

CHOREOGRAPHY

Dance Residency

24 Hour Choreographer's Project

Chez Bushwick / 2013

Commissioned

From Once

Issue Project Room / 2014

Commissioned

Testourmonials of The Great Turning

Bronx Academy of Arts / 2014 - 16

Commissioned

Call for Universal Humyn Love in these united states of ameriKKKa

BX Arts Factory / 2015

Dance Residency

Testourmonials of A GentrifiNation

Center,Performance Research / 2016

Performance Series

Testourmonials of A Great Turning

Judson Church / 2017

CURATION

Exhibition

Universal Humyn Love: A Gathering

Make The Road NY / 2013

Exhibition

en casa afuera

The Loisaida Center / 2014

Exhibition

Progress

Five Myles Gallery / 2015

Performance Series

Testourmonials of a GentrifiNation

Starr Bar / 2015

Panel Discussion

GentrifiConversation Acknowledging Complicity

David & Schweitzer Gallery / 2016

Panel Discussion

GentrifiConversation Acknowledging Support

Starr Bar / 2016

Panel Discussion

GentrifiConversation Acknowledging Artwashing

Rush Arts Philanthropic / 2016

Performance Series

Testourmonials of an ExploiNation

JACK Theatre / 2017

Music/Artisan Series

THE GET OUT (Two Event Series)

Starr Bar 2017

TRAINING

Drama

Talent Unlimited HS for the Performing Arts

Advanced Regents Diploma / 2009

Dance

Academie Americaine De La Danse De Paris

Ballet and Choreography / 2011

Theatre

La MaMa ETC

Pedagogy of the Oppressed / 2012

Theatre & Dance

Trinity College - Hartford, CT

Bachelor of Arts / 2013

EMERGE Program

Hemispheric Institute

Political Performance / 2015

Visual Art Residency

Five Myles Gallery

Winter 2016

Dance Residency

Chez Bushwick

Summer 2016

Visual Art Residency

The Loisaida Center, Museo De Los Sures, Arts East NY

Fall 2017 - Winter 2018

AWARDS

Full-Tuition

Posse Foundation Scholar

2009 - 2013

PUBLICATIONS

Interview with Raisa Kabir, Publisher: Posture Magazine

2015

Making History: Bushwick, Publisher: Arts in Bushwick

2016

Nothings Exists in a Vacuum, Publisher: Cultural Weekly

2016

Cultural Plan Analysis, Publisher: 651Arts Blog

2017
Founder and Artistic Director • The Testourmonials Project • 06/2013 to Present
Presents free series of seminars, open discussions, visual art exhibitions, and performances that provide artists and organizers in gentrified communities with resources, platforms, and information to cross-pollinate ideas, resources, support, strategies, and project promotion. Duties include vendor and artist curation, partner liaison, outreach and fundraising strategy, mailing list updates, website management, event production, and hosting. Facilitates programming, anthropological research, and artistic residencies to exhibit and promote new narratives of Afro-Descendant historiography.
Operations Director • Mi Casa No Es Su Casa: Illumination Against Gentrification • 02/2016 to Present
Meeting Facilitation and Notes Dispersion, consistently updating co-volunteers. Task organization and assignment to maintain project timeline. Co-leads fundraising coordination, donations budgeting, volunteer and outreach strategy development, inventory reports, media and partnering organization correspondence; to fairly divvy our responsibilities. Raised $1000 for city-wide hands-on tutorials and displays. Cross-borough communications liaison and partnership development administrator to expand our network of grassroots groups and institutions endorsing art as a tool against gentrification's mass displacement.
Saturday Program Coordinator • Ifetayo Cultural Arts Academy • Brooklyn, NY • 08/2016 to 08/2017

Structured social-justice-centered curriculum and creative workshops, preparing Ifetayo Youth Ensemble (IYE) and Cultural Arts Program (CAP) Scholars for participation in year-round performances.
Culminated tracking assignments and class schedules to zone IYE and CAP scholar technical and professional development, ensuring student comprehension of African diasporic cultural history.
Ballet Dance instructor and Ifetayo Youth Ensemble facilitator, choreographing and rehearsing end of year showcases.
Led IYE recruitment outreach strategic meetings, boosting enrollment by 30%.
Logistics management providing constant updates of promotional materials for all Ifetayo programming and events.
Liaison and correspondence with partnering museums and cultural art organizations, strengthening partner relations.
Performance and field trip logistics leadership and transportation coordination, relieving senior staff of excess duties.
CAP Progress Note data collection, entry, editing, production, and distribution to all CAP faculty and families.
Aided Executive Staff in overseeing and improving systems that documented learner achievement, family involvement, faculty support, efficient tuition payment, and enrollment assessment; for bi-weekly, bi-monthly, and annual reports.
Managed application filing and correspondence of admissions information, matriculation, and scholarship tuition benefits for the IYE and CAP Programs, dramatically decreasing time spent archiving and filtering information.
Hired incoming CAP Faculty, vetting twenty educators and employing three.
Editor in Chief of Ifetayo Newsletter, which produced quarterly issues of articles written by and for Ifetayo's community.


Administrative Assistant / Dance Academy Program Coordinator • Girls Inc • Brooklyn, NY • 01/2016 to 08/2016
Culminated curriculum and facilitated the Dance Academy Program, utilizing dance as an effective form of expression to release tension and encourage classroom focus; with programmatic success reflected in students' artistic presentations.
Coordinated theoretical, historical, and technical courses in Ballet, Movement Fundamentals, Choreography, and Hip Hop that developed the creative process of each student, showcased in their final assessment projects.
Application admission information data entry, student enrollment correspondence, field trip research and reservations, student growth reports, studio maintenance, office stock, managed office filing system, online archive, mail dispersion, and welcomed guests at the front desk; ensuring decrease in secretarial duties by senior staff, enhancing our services.


Front Desk Associate • Equinox • Lincoln Sq Chicago; Grand Central NY • 09/2015 to 01/2016
Membership account administration, updates, upgrades, and freezing, minimizing client termination by 15%.
Executed call forwarding, mail dispersion, gym and office maintenance, monthly class count analysis report, stocking supplies, and inventory review to reduce the Assistant General Manager's administrative workload.
Scheduled meetings, finalized revenue and appointment statements for Advisors, Management, the Equinox Store and Spa.


Arts Education Program Facilitator • Urban Arts Partnership • Brooklyn, NY • 02/2015 to 01/2016
Conducted Fresh Education Residency at MS 306, training educators in youth-led arts-immersion activities to strengthen their Global History, Writing, and Science syllabi and pedagogical practices.
Generated and administered workshops which supplied result-driven tasks and objectives that propelled students to memorize classroom lessons via lyrical writing, set construction, interpretive dance, and music video production.
Directed rehearsals for and edited music video content, tracking student progress in monthly reports.


Administrative Assistant / Program Coordinator • Creative Academy • Brooklyn, NY • 01/2014 to 02/2015
Managed day-to-day calendar updates, meeting schedules, parent tours, and expenses correspondence to Directors.
Responsibilities included document organization, data archive and entry, office maintenance, catalog orders, classroom cleaning, library development, monthly newsletter production, bi-weekly admissions and budgeting report review.
Reported to the Director of Education for curriculum revision, tour updates, and registrant enlistment appraisal.
Established and facilitated daily movement and music advancement program, to be used in the preschool indefinitely.
Trained teachers in activity familiarization and assessment of physical/conceptual growth, and safe movement practice.
English, Spanish, Brasilian Portuguese and French reading, writing, and speaking. Typing speed: 120 wpm. Proficient in Google and Microsoft Suites, Microsoft Office Outlook, Transcription, PDF formatting, DocuSign, UtiliPro, Box, RingCentral, Raisers Edge, InDesign, Salesforce, Wordpress, Squarespace, Evernote, and Adobe Acrobat. Organization of digital and physical archival material. Data Entry, Assessment, and Presentation. Event Planning, Dramaturgy, Stage Management, Performance Direction, Lighting and Set Design, Art Handling and Transportation, Marketing and Outreach coordination.
Creativity, ingenuity, collaboration, and professionalism are the substances I will bring to your team.