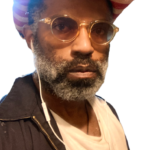 Anthony Wills Jr
b.1976
Anthony Wills Jr. is a visual and performance artist most noted for his installations which include paintings, sculpture and performance art. Anthony has shown in Chicago, New York, Washington DC, Utah and Milwaukee. He is the author of several narrative performance art pieces including his one man shows "A Proclamation of Emancipation", "The Happiness of Schizophrenia" and "Strange People".
Performance Art projects include With One Hand Between Us, conceived by Jonathan Van Dyke where Wills and two other performers perform for nearly forty hours over the course of five days. He's also collaborated on William Pope L.'s Eating the Wallstreet Journal at The New Museum, Sensorium and re-performances of Abramović's best-known works at 25CPW gallery under the title The Artist is Absent curated by Ariel Speedwagon, Daniel Lang/Levitsky Quito Ziegler. Anthony a part of the Giovanni Art Group of Capital Hill in Washington, D.C.
Read Less Read More
As an artist, my goal is to encourage the viewer to take a journey. I want them to recall a memory or reclaim some thought, dream, desire or feeling that perhaps has been discarded and realize the beauty of it. I hope that viewers will see , as I do, that these are portraits of us all. They are images that depict who we are, were, might be, or might have been. They are memories for us all to share.
I am a storyteller. I create images and performances which have a beginning, middle, and end. Although, most of my work is inspired by specific people and or events my paintings are abstract representations of a people, times and places beyond the specific. The subjects have been stripped of extraneous details to to reveal a struggle. They are in a state of flux. They're leaving one place in their lives and ascending to another. Quite often they are searching for a way out. They're looking for the next door. They are yearning for someone to save them and escort them to the next destination. They are symbols of the constant journey of life.
In our lives we are constantly ridding ourselves of things. Parting with items that once had great importance. We throw away belongings. We loose touch with friends. We forget ideas we once believed. We put away dreams which at one time were the impetus for all we did. We forget who we once were, those negative and positive days that now seem so far behind us.
By using found materials I give new meaning to items which have been discarded while celebrating emotions and experiences that have been forgotten. Above all I strive to acknowledge beauty everywhere especially those places you least expect.
My visual work includes installations, commissions and live creations for fundraisers and events.
The Happiness of Schizophrenia -workshop of new adaptation
Itenerant
Glass House, Brooklyn NY November 2015
A semi-biographical exploration of my fear of going crazy and greater fear that the only way to find happiness may be embracing insanity.

The Happiness of Schizophrenia -workshop of new adaptation
Happiness
Jersey City Theater Center October 2015

Mule Variations
Artistic Pride Productions
Joria Productions 2015
A collection of songs, monologues and art that celebrates community and the power of art derived from the Tom waits album of the same title.

The Piano Has Been Drinking (not me!)
Artistic Pride Productions
Don't Tell Mama/ June- October 2013
An exploration of artists and their vices that celebrates the triumph of artists who have overcome them, pays tribute to those who were consumed by them them and gives encouragement to those struggling with addiction.

With One Hand Between Us
Performa Curated by David Everitt Howe
Scaramouche Gallery/ November 2011
JONATHAN VanDYKE
VanDyke's non-verbal drama that plays out in a storefront space over five days through the performers' movements, gestures,and proximity. Featuring David Rafael Botana, and Laryssa Husiak.

11 1/2 Pieces on Life, Living, Death, and Dying (a comedy)- workshop
Sensorium
Navy Yard. Washington, DC/ 2011
An unprecedented culinary production combining culinary playfulness with theatrical costumes, lighting and music. A 12-course meal complete with wine pairings intertwined with performance vignettes. Collaboration with David London, Melissa Krodman and Chef Bryon Brown.
The Man Who Would Not Could not Live
ReVision
Forward Motion Theatre at the Tank New York, NY/ 2011
A movement/ clowning piece where the audience must express themselves for a moment to show the man who could not realize there is more to life.

The Man Who Would Not Could not Live (see above listing)
Tiny Dangerous Fun curated by John Leo
Sycamore Bar. Brooklyn, New York/ 2010

Relation in Space
Artist is Absent curators Ariel Speedwagon, Daniel Lang Levitsky Quito Ziegler
25CPW Gallery. New York, NY/ 2010
On the occasion of the closing weekend of Marina Abramović's retrospective The Artist is Present, a group of NYC artists and performers presented re-performances of some of Abramović's best-known works. In Relation in Space two nude bodies repeatedly pass, touching each other. After gaining a higher speed they collide.

The Wake
Fresh Produce festival of Performance
The Fridge Gallery. Washington, D.C./ 2011
An installation with performance in which the viewers contemplate death in a safe environment. No one is actually dead so viewers may ponder more romantic if not positive ideas on death without being confronted with someone actually leaving life.

Eating the Wallstreet Journal
The Last Newspaper
New Museum. New York, NY/ 2010
A performative re-staging of this seminal work enlisting a team of collaborators to occasionally wander throughout the museum eating the financial daily supervised by William Pope L.

Monday night with Mike Murray
Uncle Charlie's, New York, NY (2008-2010)
Evenings of mostly original music by Anthony Wills, Jr. and Mike Murray.

Big Art Show (curator)
Department of Lost Baggage
Load of Fun Gallery. Baltimore, Maryland/ 2009
A collaborative installation with artist/magician David London where the audience becomes the artists.

A Proclamation of Emancipation
Art-o-matic curated by Philippa Hughes
Sion Lounge. Washington D.C./ 2009
A movement spoken word piece which asks the question,"What good is it to be free if we don't proclaim and celebrate our freedom?

The Happiness of Schizophrenia
New York International Fringe Festival
The Players Loft. August 2006 (see above listing)

One Man's Garbage / The Happiness of Schizophrenia (curator)
Bucketworks Gallery. Milwaukee, WI/ 2006
An installation of 2D and 3D paintings that explore the lines between garbage and art in conjunction with a performance of The Happiness of Schizophrenia.

On The Edge (curator)
Spareroom. Chicago, IL/ 2006
A fundraising exhibition co-curated by Anthony Wills Jr. And David London featuring performances, Installations, and paintings by C.T. Ballentine, David London, Billie Roberts and Anthony Wills Jr.

Sodium Chloride/ Lots Wife
Pac/Edge
Local Infinities Visual Theater
Atheneum Theater Lobby/ Chicago IL/ 2004
An installation/ performance exploring fractal Geometric structures and the paradox of salt as a symbol of both fertility and infertility.

Strangers and Friends (curator)
Glenwood Art Alliance
Pop-up Store Front Gallery. Chicago, IL/ 2005
A group show of Paintings and illustrations around the theme of community also featuring the work of illustrater Anna Weiler.