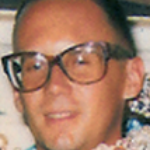 Arch Connelly was born on May 12, 1950, in Chicago and received a bachelor's degree in 1973 from Southern Illinois University, where he majored in ceramics. He lived in San Francisco until 1980, when he moved to New York City. His first solo show was at Artists Space in TriBeCa in 1980. In 1981, he had the first of four solo shows at the Fun Gallery on East 10th Street, one of the best-known showplaces of the East Village art scene. He has exhibited in New York at: Artists Space, White Columns, Fun Gallery, Holly Solomon Gallery, Wessel/O'Connor Ltd. and Castelli Graphics. His work has also been shown internationally: in Japan, Sweden, Germany and Holland, France and Italy.
Mr. Connelly was best known for his jewel encrusted wall reliefs, paintings and freestanding sculpture. Embellished without restraint, "to the max" his work achieved an elegant, surreal quality. He is most associated with the pattern and decoration trend of the mid-70's in high contrast to the popular minimal and conceptual schools of the time. His shout-out to and embellishment of everyday objects is a nod to the American pop Art tradition. And, along with other East Village denizens Keith Haring, David Wajnarowicz, Nicholas Moufarrege, and Martin Wong, Arch Connolly was part of an explicitly gay art movement. The East Village art scene was a rich but brief moment offering a joie de vivre, a joie d'art, missing in the over intellectualized minimal art world of New York up until this time. Unfortunately the East Village also took an huge toll, with the AIDS epidemic, extinguishing many of the brightest lights of the East Village scene.
This tribute page was created by Visual AIDS.
Read Less Read More