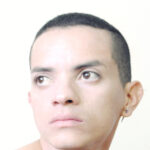 Cartagena de Indias, Colombia (1987).
I am the third of five children of a married couple of teachers. My father has spanish ancestry, and my mother has english ancestry (however my ethnicity is the product of a miscegenation and cultures), they are from the north coast of Colombia (Sincelejo, Sucre and San Sebastián, Magdalena). I have lived in several cities of my country.
Even though I practiced drawing since I was a kid, my career as a visual artist began through a photographic experimentation (self-portraits). Then I get skills on image composition, color editing and post production. An artistic searching immerses me in the exploration of video art, and I get to participate in international exhibitions. Currently my interests are nature photography, portraiture and drawing as a reconcilement with my past. Regarding my work in painting and drawing, this shows my interest in using natural pigments in different media such as wood or virgin canvas, is a constant in my projects, the simplicity, sensibility, using of symbolisms, and gestures to transmite emotions through them.
Read Less Read More
I'm a visual artist, with studies in graphic design and photography. From an early age I have lived in several places in my country. However, my interest to evoke my birthplace, my home town, and it influences the themes and content of my artwork. The need to express and transmite intrinsic emotions through gestures and symbols, takes me to explore the synesthesia as a way to comunicate. The search and religation about the origin, as well as cultural, ethnic and ideological mixtures that contribute to the construction of my identity, do become indispensable to telling visual stories, from my own personal experience, that allow demonstrations a subjective character in which a viewer can find common elements and decode the meaning of these, and according to their individual memory, even if it belongs to a different social context. To generate this dialogue, I take some iconic and symbolic elements from my structure as an individual, in an anthropological and philosophical context, through processes of experimentation and using the body as a tool to project a succession of emotional states and feelings developed through a lifetime, achieving a control of these, while achieving acceptance and affirmation to come to a knowledge of himself through this process. In this way, my artwork feeds on semiotic elements to reach the public while is identified with it, to the extent that their experiences allow it to interpret and make it theirs.
STUDIES
2013 – …
Visual Arts (BA). Instituto Tecnológico Metropolitano - ITM, Medellín, CO.
2006 – 2010
Graphic Design (AD). Institución Universitaria Pascual Bravo, Medellín, CO.
I also have studies in photography, illustration, typography and branding design.
…
COLLECTIVE EXHIBITIONS (selection)
2016
El Vernis Vol. 2. La Casa Redonda, Medellín, CO.
2015
Territorios Inherentes. Instituto Tecnológico Metropolitano - ITM, Medellín, CO.
II Desencuentro Posporno. The Blue Hall, Medellín, CO.
Videada_07. El Galpón Espacio, Lima, PE.
2014
Punto de fuga. Instituto Tecnológico Metropolitano - ITM, Medellín, CO.
Tiempo y movimiento. Parque Biblioteca España, Medellín, CO.
2013
Pantalla global. Centro de las Artes de Monterrey - CONARTE, Monterrey. MX.
2012
Pantalla global. San Telmo Museoa - STM, San Sebastián, ES; Centro de Cultura Contemporánea de Barcelona - CCCB. Barcelona, ES.
2011
Philately Exhibition in tribute to Rafael Pombo.Biblioteca Luis Ángel Arango - Banco de la República. Bogotá, CO.
Children's Illustration Exhibition. Casa del Encuentro – Museo de Antioquia. Medellín, CO.
2009
I Biennial Mi Lupita. Golem – Icono Magazine, México D.F., MX.
2006
Exhibition of Fine Arts. Parque Biblioteca Presbítero José Luis Arroyave, Medellín, CO.
2001
Art Show for Breastfeeding. Institución Educativa Rafael Pombo – Instituto Colombiano de Bienestar Familiar (ICBF), Saravena, CO.