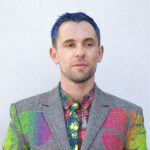 BEN COPPERWHEAT
b.1975
Ben Copperwheat, born 1975, Luton, United Kingdom, produces fine art, wearable art, interior concepts, and has created printed textile collections for some of the world's leading brands. Copperwheat is known for his signature bright colours and bold, graphic imagery, and screen prints. His work is a riot of rainbow, neon colour taking the form of a library of motifs and icons creating a unique visual language. In 2002, Copperwheat debuted his paintings at Studio Voltaire, London, alongside Liz Neal, Holly Johnson, Erdem Moralioglu, Patrick Coleman and Shezad Dawood at AUSGANG!, a group show curated by Liz Neal. Following his move to New York in 2003, exploring fashion and textile design, he provided design direction and created print collections to some of the world's most renowned brands, including: Gucci, Calvin Klein, Tommy Hilfiger, Peter Som, Edun, Pret A Surf, Victorinox Swiss Army, Stephen Burrows, 3.1 Phillip Lim, DKNY, and Daryl K.
In 2009, Ben established the avant garde menswear line, COPPERWHEAT, with his cousin Lee Copperwheat in 2009. Covered by publications like Dazed Digital, Vogue Italia, and Surface Magazine, collaborating with Palladium shoes and singer Miguel, COPPERWHEAT quickly generated excitement with its unusual combination of Ben's distinctive hand printed designs, and Lee's tailoring. Together they produced five collections shown during New York Fashion Week, "London to New York," "End of Empire," "Brave New World," "Urban Warrior," and "Smash it Up!."
Recently, in 2015, he participated in the Interface group exhibition at the Leslie Lohman Museum, and in the 2015 and 2016 POWERED group show. In 2016, Copperwheat joined the Art/Fashion group of artists at the cutting edge of wearable art, founded and curated by the New York City stylist, Patricia Field. This partnership led to a number of high profile runway shows and collaborations including: Berlin Fashion Week, September 2016, Art Basel Miami 2016 & 2017, a commissioned mural for Luisa Via Roma luxury department store in Florence, Italy January 2017, a showcase of his art at Schimanski Club in Williamsburg, Brooklyn in March-May 2017, and in the summer of 2017, an ArtFashion exhibition and runway show in Mykonos, Greece. For the 2017 NYC Pride celebrations, Copperwheat was commissioned by Jane Friedman of the Howl Happening Gallery, to design and paint a float for the Gerald J. Friedman Transgender Health + Wellness Center. In September 2017, he was invited to show his wearable art collection as part of London Fashion Week at London Queer Fashion Show, an exciting celebration of leading queer designers. Susanne Bartsch invited Ben to show is collection in collaboration with Jeanise Aviles & Rachel Singer of Sparkle Princess at her event, Arte Porter, Collection Presentation Runway and art exhibition, at the Tampa Museum Of Art, Tampa, Florida. The show took place on October 5th 2017. In February 2018 Ben Copperwheat exhibited in the group show IN:SPIRE, paying homage to Leigh Bowery, creating a portrait of the performance artist nightlife legend. In March 2018, Ben exhibited in the group show, "Ideas Get Dressed", at Sapar Contemporary in TriBeCa, New York. curated by Emma Hepburn Ferrer.
His work is commissioned by personalities and organizations like Beyoncé and Blue Ivy, Boy George, Liza Minelli, Pat Cleveland, Isabella Blow, Rod Thomas and David Collins Studio.
Since 2001. Ben has developed syllabus and taught at four British and American universities: Northumbria University Newcastle, Royal College Of Art, San Francisco Academy Of Art and New York University.
Ben Copperwheat graduated with a BA (Hons) Creative Arts from Bath Spa University in 1999 and a Master of Arts from the Royal College of Art in 2001.
Read Less Read More
My work is a layering of motifs and icons to create a visual history and a personal journey on canvas and clothing using screen print, collage, painting, photography, and photoshop. Architecture of NYC and London, trippy florals, lightning bolts, hearts, the British Royal Family, icons of popular culture adorn my work. My signature is bright, often neon, rainbow colours and bold, graphic imagery. My background of fine art and fashion textile design is a foundation of my work. The fusion of these areas is of great interest to me, and my evolving practice of self expression as a queer artist living with HIV.
BEN COPPERWHEAT Artist / Designer / Educator
+1 212 729 7599
Education
Royal College Of Art
MA Printed Textiles. London, United Kingdom. 1999 - 2001
Bath School Of Art & Design, Bath Spa University
BA (Hons) Creative Arts (Fine Art/Textiles). Bath, United Kingdom. 1996 -1999
Teaching Positions
New York University
Adjunct Instructor - Developed syllabus and taught on campus NYU SPS: High School Academy, Fashion Design In New York City / The Fashion Designer As An Artist. New York City. 2016-present
Academy Of Art University San Francisco
Adjunct Instructor - Developed syllabus and taught online class: Textile Printing For Product. San Francisco, California. 2015-present
Royal College Of Art
Visiting Lecturer, MA Printed Textiles. London, United Kingdom. 2002-2009
Northumbria University At Newcastle
Senior Lecturer. BA (Hons) Fashion & Textiles Course. Newcastle-upon-Tyne, United Kingdom. 2001-2003
Exhibitions / Special Projects
Ideas Get Dressed, Group Show
Sapar Contemporary, New York City. March - April 2018
Nine Lives, Group Show
Parlor Gallery, Asbury Park, NJ. February - March 2018
IN:SPIRE a group show inspired by Leigh Bowery
Leslie Lohman Museum, 26 Wooster Street, New York City. February 2018
Patricia Field Art/Fashion: Art Basel, Miami
White Dot Gallery, Miami, Florida. December 1st- 31st 2017
Patricia Field Art Fashion, Exhibition And Runway
Runway and art exhibition, Joe's Garage, Catskill, NY. October 2017
Susanne Bartsch, Arte Porter, Collection Presentation
Runway and art exhibition, Tampa Museum Of Art, Tampa, Florida, October 2017
London Queer Fashion Show, Collection Presentation
Hackney Showroom, London, UK. September 2017
Lgbt Pride Float For Gerald J. Friedman Transgender Health + Wellness Center
Pride March, New York City. June 2017
"Icons" Solo Exhibition
Schimanski, Williamsburg, Brooklyn, NY. March - June 2017
"Constellation", Commissioned Mural
Luisa Via Roma, Florence, Italy. January - July 2017
Patricia Field Art/Fashion: Art Basel, Miami
White Dot Gallery, Miami, Florida. December 1st- 31st 2016
Patricia Field Art/Fashion: Berlin Alternative Fashion Week
Runway show, Berlin Germany. October 1st - 3rd 2016
Patricia Field Art/Fashion
Art and runway show: Howl Happening Gallery, New York City. September 7th 2016
Powered2 Group Show
MX Gallery, New York City. January 2016
#Interface: Queer Artists Forming Communities Through Social Media
Leslie Lohman Museum, 26 Wooster Street, New York City. May 15th - August 2nd 2015
Powered Group Show
La Sala, Cantina Royal, New York City. January 29th 2015
COPPERWHEAT "Smash It Up!" New York Fashion Week
Cappellini Showroom, New York City. September 11th 2011
COPPERWHEAT "Urban Warrior" New York Fashion Week
Soho Grand Hotel, New York City. February 10th 2011
COPPERWHEAT "Brave New World" New York Fashion Week
Tribeca Grand Hotel, New York City. September 10th 2010
COPPERWHEAT "End Of Empire" New York Fashion Week
Soho Grand Hotel, New York City. February 8th 2010
COPPERWHEAT "London To New York" New York Fashion Week
Maritime Hotel, New York City. September 11th 2009
"Ausgang!" Group Show
Studio Voltaire, London United Kingdom. 2002
Design Consultancy
Donna Karan International
Printed textile design, direction, color concept for DKNY & Donna Karan Collection. New York City. October 2016- July 2017
JCPenney
Printed textile design and direction. New York City. June 2014 - July 2016
Adrianna Papell
Printed textile design and direction for the RTW collection. New York City. 2012 - 2015
DKNY Outlet
Printed textile & graphic design. New York City. 2013 - 2015
Otherworld Apparel
Printed textile design for Otherworld Apparel scarf collection. New York City. 2013 - 2015
Pret-a-Surf
Printed textile design. New York City. 2009-2014
Copperwheat
Menswear clothing line, creative director, print & graphic designer. New York City. 1999 - 2012
3.1 Phillip Lim
Printed textile design for the RTW collection. New York City. 2011-2012
Color Association Of The United States
Color forecasting for the men's wear group. New York City. 2005-2012
Tommy Hilfiger
Graphic tees & printed textile design for the women's RTW collection. New York City. 2009-2011
Peter Som
Printed textile design for the RTW collection. New York City. 2011-2012
Edun
Printed textile design & graphic tees for the men's & women's RTW collection. New York City. 2008 - 2011
CK Calvin Klein Outlet
Printed textile design & graphic tees. New York City. 2008-2011
Victorinox Swiss Army
Printed textile design & graphic tees for the men's & women's RTW collection. New York City. 2007 - 2009
Sue Stemp
Printed textile design for the RTW collection. New York City. 2005 - 2009
Stephen Burrows
Printed textile design for the RTW collection. New York City. 2003 - 2009
Calvin Klein Jeans
Full time senior printed textile designer. New York City. 2003 - 2008
Daryl K
Printed textile design & graphic tees. New York City. 2003
Isabella Blow
Tatler. Printed textile design & editorial styling. London, United Kingdom. 2001 - 2002
United Arrows
Shoe & scarf surface pattern design. Tokyo, Japan. 2001 - 2003,
David Collins Architecture
Interior mural design for the Voyage flagship store, Avenue Montaigne, Paris. 2001
Gucci
Printed textile design. London, United Kingdom. 2001
Notable Press
OUT Magazine - June 2018
https://www.out.com/fashion/2018/6/15/gaze-upon-stunning-photos-ben-copperwheats-vibrant-rainbow-electric
KALTBLUT Magazine - March 2018
http://www.kaltblut-magazine.com/watchman-starring-gabe-laduke/
OUT Magazine - June 2017
https://www.out.com/pride/2017/6/24/ben-copperwheat-designs-pride-float-celebrate-new-nyc-transgender-health-program
Vogue Spain - January 2017
http://www.vogue.es/living/articulos/luisaviaroma-florencia-tienda-artistas-patricia-field/27977
Stylecaster - March 2016
http://stylecaster.com/ben-copperwheat/
The Telegraph - February 2016
https://www.telegraph.co.uk/fashion/brands/meet-the-british-designer-custom-making-clothes-for-blue-ivy/
The Telegraph - February 2016
https://www.telegraph.co.uk/fashion/people/apple-martin-and-blue-ivy-steal-the-super-bowl-show-in-zany-bomb/
Royal College of Art Magazine - January 2016
https://www.rca.ac.uk/studying-at-the-rca/the-rca-experience/student-voices/alumni-stories/ben-copperwheat/
Huffington Post - October 2015 https://www.huffingtonpost.com/entry/fabrications-14-fashion-designers-who-are-queering-the-fashion-industry_us_56216699e4b02f6a900c64e5
Huffington Post - May 2015
https://www.huffingtonpost.com/2015/05/22/ben-copperwheat-fabrications_n_7424354.html
Beautiful Savage Magazine - May 2013