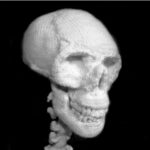 Ben Cuevas
b.1987
Ben Cuevas is a Los Angeles-based interdisciplinary artist, who's perhaps best known for the complete human skeleton he knit while in residence at the Wassaic Project in 2010. Born in Riverside, CA in 1987, he received his BA from Hampshire College with a concentration in Mixed-Media Installation Art. Cuevas' work has been exhibited in group and solo shows around the world, from Los Angeles, to New York, to Hong Kong, in galleries, museums, and private collections.
Read Less Read More
With fiber as my fulcrum, I view knitting as a meditative practice, exploring and challenging the gendered constructs and physical limitations of craft. From the political to the metaphysical, my practice is steeped in queer feminist ideologies, with an awareness of the mind, body, and spirit. My work spans a wide range of disciplines including installation, sculpture, photography, performance, video and sound. Often incorporating several of these elements into any given piece, I make use of digital media as a means of documentation.
Identity directly influences my work. As a queer, male-bodied, HIV-positive artist, blood has a special significance to me, which my installation, Knit Veins: Fiber of Our Being, underscores. As I admire and hearken to David Wojnarowicz and Ron Athey, I want to challenge viewers' fears of HIV and help revive the queer culture lost to AIDS and gentrification, as offered in my installation Ghosts of the Trucks of the West Side Highway.
As an alternate to my actual identity, I created a digital/corporeal alter ego, BenBot 5000, complete with a fictional career as an intergalactic recording artist from a parallel dimension (as apparent in my parodied Rolling Stone Q&A). This project enabled me to explore themes of the body, sexuality, and gender, within the ethereal landscape of the Internet.
My exploration of identity, pop, and the Internet carries through into my most recent work, The Tweetables Series: Knit Text in 140 Characters or Less, merging the contemporary language and aesthetics of social media with the anachronistic softness of knitting and yarn. Throughout its pluralities, I see my work as reflecting the condition of embodiment: exploring the intersections of the mind and body, what it means to have a body, to inhabit a body, to be a body incarnated in, and interacting with this world.
Education
2010
B.A. Studio Art: Mixed Media Installation & Photography, Hampshire College, Amherst, MA
2003 & 2005
Scholar of the Arts: Film/Video, California Summer School for the arts at CalArts, Valencia, CA
Solo Exhibitions & Installations
2013
Duality #1, Knit Culture Studio, Los Angeles, CA
2011
Transcending the Material, Knit Culture Studio, Los Angeles, CA
2010
Healing Disparities: The Condition of Embodiment, Canal Gallery, Holyoke, MA
2009
Media Coverage, Harold F. Johnson Library, Amherst, MA
Selected Group Exhibitions
2016
Gather & Transform, Spring Arts Collective Gallery, Los Angeles, CA
Persons of Interest, The Bureau of General Services - Queer Division, New York, NY
2015
Femo, Wallspace, Los Angeles, CA
Stitch Fetish, Hive Gallery, Los Angeles, CA
2014
The Adonis Project, Human Resources, Los Angeles, CA
Body Conscious: Southern California Fiber, Craft in America Center, Los Angeles, CA
Queer Biennial I, Coagula Curatorial, Los Angeles, CA
Queer Threads, Leslie Lohman Museum of Gay and Lesbian Art, New York, NY
2013
Mix NYC Festival, Brooklyn, NY
Fiber 2 Form, Salem Art Works, Salem, NY
Riot I, Gay Pride Festival Exhibition, Los Angeles, CA
2012
The Queer Pile-Up, For Your Art, Los Angeles, CA
Install: WeHo (outdoor exhibition), West Hollywood, CA
Home Is Where the Needle Marks, Pop Tart Gallery, Los Angeles, CA
2011
In-Organic, Collar Works Gallery, Troy, NY
Tasting Cultures, Latino Arts Center, Milwaukee, WI
Tompkins Projects West, Dan Graham Gallery, Los Angeles, CA
Vogue Knitting Live, New York Hilton, New York, NY
2010
The Wassaic Project Summer Music & Art Festival, Wassaic, NY
All at Once, Canal Gallery, Holyoke, MA
2009
Lo-Fi Arts Festival, Smoke Farm Arts Collective, Arlington, WA
Selected Performances
2014
Jockstrap, Queer Biennial: Art Basel, Hotel Gaythering, Miami, FL
BenBot 5000: Lascivious, Akbar, Los Angeles, CA
Man's Body / Woman's Work, Coagula Curatorial, Los Angeles, CA
2013
Benbot 5000: Get Money Get Paid, The Lexington, Los Angeles, CA
2009
The Island, Robert Crown Center, Amherst, MA
Film and Video
2015
Jockstrap (short: performance documentation, as performer, editor, producer & videographer)
2012
Spiritual Eugenics (short, as art department, collaborative artist)
2005
Let's Meat (short, as writer, director, editor, producer & filmographer)
Division (short, as co-writer, director, editor, producer & filmographer)
Fat Kid (short, as writer, director, editor, producer & videographer)
Awards
2015
Creative Capacity Fund Quick Grant
2012
ArtSlant Showcase, www.artslant.com
2010
Joe Liebling Grant for Film & Video Projects
2008
Best of the Druid Underground Film Festival
Professional Experience
2015
Desert Knitting Guild Lecture & Workshop — Presenter & Teacher on the topic of 3D knitting
Vogue Knitting Live Lecture — Presenter on the topic of sculptural knitting
2014
Textile Society of America Symposium — Panelist for "The Masculine Mystique: Men in Fiber Art"
2010
The Wassaic Project Summer Artist Residency
2009
Artist's Assistant to Susan Robb, Seattle, WA
Artist's Assistant to Edgar Arceneaux, Los Angeles, CA
Artist's Assistant to Kate Rhode, Contemporary Art Center, Vilnius, Lithuania
Selected Press & Publications
2016
The New York Times, New York, NY
Duets: Ben Cuevas & Annie Sprinkle in Conversation, a collaboration with Visual AIDS
Queer Threads: Crafting Identity & Community, edited by John Chaich & Todd Oldham
2015
Ginza, Japan
The Advocate, New York, NY
2014
Wire Magazine, New York, NY
Miami Herald, Miami, FL
Miami Art News, Miami, FL
ArtSlant, Los Angeles, CA
The Advocate, New York, NY
2013
The Huffington Post, New York, NY
2012
LA Weekly, Los Angeles, CA
Frontiers Magazine, West Hollywood, CA
2011
Interweave Knits, Ft. Collins, CO
Frontiers Magazine, West Hollywood, CA
2010
Collections
El Museo del Barrio, New York, NY