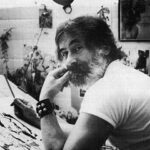 Bill Ward was a gay graphic artist born 20th August 1927 in East London. (Not to be confused with the American heterosexual erotic artist by the same name, William Hess Ward 1919-1998). Bill's publishing career began as a copyboy in newspaper publishing before becoming an art editor for children's comics and then a graphic artist. He worked as a graphic artist for Amalgamated Press and Fleetway on childrens' comics, notably their Thriller series (November 1951 – May 1963). In 1957 Bill had his first erotic drawings published anonymously in the British physique magazine Male Classics and he would later work openly for hard-core American magazines. Bill's work features in the same issue of Drummer that includes Robert Mapplethorpe's first commissioned cover (issue 24, September 1978).
Bill Ward died on 24th July 1996 at Stratford in London at the tail end of the worst period of the AIDS epidemic.
Bio and images courtesy of The Bill Ward Archive.
For more info, contact Guy Burch at billwardachive@guyburch.co.uk
Read Less Read More