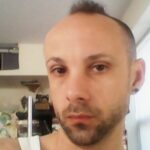 Bino Alves (b. 1972, Coimbra, Portugal) was raised in Newark, NJ. He lives and works in New York City.
Read Less Read More
I have a BA in art education and fine arts from the School of Visual Arts. I took fashion design classes at the Fashion Institute of Technology, and have worked with celebrities. I founded my own fashion line, "Flaunt It" in 2004. I was born in Portugal and raised catholic in Newark, N.J in the Portuguese community, and then moved to NYC at 20. I worked at an art store for 17 years where I designed their window displays.
My work explores subjects such as sex work, the nightlife, androgyny, the contamination of the body, substance use, fetish and perv culture and their relationship to the Divine and eroticism, while simultaneously exploring these thematic conversations in my fashion industry and window display works.
The early work speaks to the first year after seroconversion and the struggle of working through various experiences and conditions, like suicide, depression, alienation, and the systemic challenges that I faced when I was homeless. Some of this work was created while I lived in a shelter and its aesthetic is created by the limitations of the space itself, and I made-do with what I could. The artwork stems out of my own descent and ascent from the worlds I experienced as a sex worker dealing with the inability to connect. I explore the need to connect with others through metaphors, using objects such as puzzle pieces, fabric swatches, sewing notions, embellishments, play money and repeating patterns, including chain-loops and crosses.
I work actively to support my community as an art educator, motivator, art therapy facilitator at GMHC and peer educator at Exponents. I deeply value conversations in my artistic process as coping mechanisms for myself, friends, and relationship with my community. I've been a Visual AIDS Artist Member for 4 years and have been awarded an Artist Materials Grant for 3 years. My work has been exhibited at GMHS and Visual AIDS' Postcards from the Edge Exhibition in 2016, 2017, and 2018.