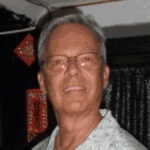 Brian Crede
b.1952
Originally from NYC I recently relocated to Fort Lauderdale, FL. I've always had a fascination for paper and three-dimensional art. In 1975, I graduated from Kent State University, College of Fine and Professional Art, with a Bachelor of Fine Art in Industrial Design and a minor in Copper Enameling. During my academic years, I explored graphic design, enameling, glassblowing, airbrushing, and photography. I founded my graphic design studio, bc graphics, in 1978.
My work has been labeled constructionist. The majority of my artwork consists of cut and layered paper. My palette is generally black, white and earth-tones, or monochromatic colors. These works are shallow three-dimensional constructions and the interaction of light and the movement of the viewer causes the shadows to change – creating a somewhat kinetic piece of art. I have also explored fiber arts with appliquéd fabric and embroidery. Using ultra suede, Naugahyde, and yarn to create the subtle graphic effects, without the dimensionality of the cut and layered papers.
The bas reliefs are a new medium for me and reflect techniques I learned for cloisonné. Initially I've keep my palette in simple white and metallic silver but plan to explore adding color soon. My wireworks are also loosely derived from my cloisonné work. This medium straddles the fine line between illustration and sculpture. The wire is raised above the background on a chrome frame. This allows me the freedom to manipulate the figure creating a feeling of depth, space, and grandeur.
After I moved to Fort Lauderdale I found a gallery to represent my work – Gallery XO in Wilton Manors.
Permanent Archives:
• Tom of Finland Foundation, Los Angeles, CA – selections of my homoerotic artwork
• GLBT Archives at Yale University, New Haven, CT – a collection of community theatre posters from the Arts Project of Cherry Grove
Private Collections:
• My artwork is in private collections in:
Arizona, California, Connecticut, Florida, Illinois, New Hampshire, New Jersey, New York, North Carolina, Ohio, Pennsylvania, South Carolina, Washington, and France
Read Less Read More