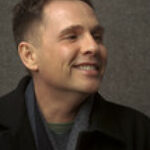 Born in Brampton, Ontario in 1963, my family and I relocated to Waterloo Region in 1969. I was awarded an undergraduate degree in English and Classical Literature by Wilfrid Laurier University in 1985.
I joined the Federal Public Service in 1987, working for the Department of National Revenue and have taught Income Tax Law and administration in the private and government sectors as well as at post-secondary institutions. I retired from the Federal Public Service in 1995 to pursue AIDS treatment activism and social justice advocacy. I was active with AIDS Action Now! for many years and have worked as a Clinical Trials Counsellor at the Community AIDS Treatment Information Exchange in Toronto. I was also the President and Acting Executive Director at the AIDS Committee of Cambridge, Kitchener-Waterloo and Area until 2001.
Always interested in painting, my painting practice began in earnest in 1997. Although primarily self-taught, I have studied printmaking with Deirdre Chrisholm at Wilfrid Laurier University and painting with Linda Carson, Lila Lewis Irving, Marion Manning, Eileen MacArthur and Sheila MacDonald Roberts. My painting interests are diverse, ranging from recreations of Old Masters to Non-objective Painting, yet are pervasively influenced by my researches in Perceptual Psychology and in particular, the perception of colour. Recently, my interest has been focused on chiaroscuro/contrast perspective, colour gradients and colour modelling sequences.
In 2020/21, I wrote and published Color as Iconic Form, a concise treatise on the proportional mixture of pigments.
Read Less Read More
Curriculum Vitae
Education
1985 BA, Wilfrid Laurier University, Waterloo, Ontario
Professional Experience
1997-present Studio Painting Practice, Kitchener, Ontario
Solo Exhibitions
2013-present VisualAIDS, Online Exhibit, http://www.visualaids.org/artists/detail/carl-w-rush
2012 Little Bean Coffee Bar, Kitchener, Ontario
2009 Framing and Art Centre, Kitchener, Ontario
2004 Muses Café, Kitchener, Ontario
Group Exhibitions
2009 KW Society of Artists, Kitchener, Ontario
2008 Juried Art Exhibit, Waterloo Community Arts Centre, Waterloo, Ontario
2008 5 Lites Gallery, Guelph, Ontario
2005 Art Positive, Montréal, Québec
Grants
2014-present Annual Artists Material Grant, VisualAIDS, New York, New York
Publications
2020 Color as Iconic Form; A Concise Treatise on the Proportional Mixture of Pigments.
2013 "A Spectacle of Stigma; A First-Hand Account of a Canadian Criminal HIV Exposure Trial." HIV Justice Net, 25 January 2013. Web 29 May 2022.
2007 Signs of Colour. An Exhibition Catalogue. Works by Carl W. Rush
2005 Signs of Painting. An Exhibition Catalogue. Works by Carl W. Rush