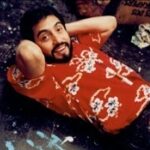 Carlos Almaraz was born in Mexico City in 1949 and grew up in Chicago and Los Angeles. He studied at the University of California, Los Angeles, and later earned a Master of Fine Arts degree from Otis College of Art and Design in 1974. In 1973, Almaraz and three other artists co-founded Los Four, a local art collective whose collaborations brought Chicano street art to the attention of the Los Angeles mainstream art community. Almaraz also created murals, banners, and other artworks for César Chávez and the United Farmworkers Union. His large Boycott Gallo mural on the All Nations' Center in East Los Angeles was a community landmark before its destruction during the late 1980s.
Almaraz is best known for his depictions of Echo Park and his freeway car crashes where he captures the L. A. urban landscape with explosive painterly textures and brilliant color. The often dualistic aspect of life is a consistent element in the artist's work.
Over a period of 25 years, Almaraz continually drew, wrote poems, and kept faithful accounts of his ideas in some 50 notebooks, chronicling the evolution of his distinct lexicon of characters, symbols, and concepts. Although Almaraz died in 1989, his pastels, paintings, and murals remain a major influence on younger Latino artists. His work continues to be widely exhibited in solo and group shows throughout the world.
Most recently, Almaraz's work was shown in his first major retrospective "Playing with Fire: Paintings by Carlos Almaraz" at LACMA in 2017. His life, work, and battle with AIDS were further detailed in the 2019 Netflix documentary, Carlos Almaraz: Playing with Fire.
This tribute page was created by Visual AIDS.
Read Less Read More