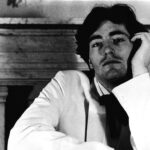 Michael P. Shanoski (1958-2001) was a talented artist who grew up in northeastern Pennsylvania and graduated from the Pennsylvania Academy of Fine Arts in Philadelphia. His work garnered multiple awards, international exhibitions, solo and group shows, and several permanent collections including the Library of Congress, Rutgers University, Philadelphia Museum of Art, and Pennsylvania Academy of Fine Arts. He mostly worked with pastels and is best known for his 1980's series of abstract figural drawings entitled, "Waiting."
Michael owned The Mulligan-Shanoski Gallery in San Francisco, California between 1993-2001. There he represented many artists including Don Bachardy, Giovanni Casadei, Carol Tarzier, Alan Baustein, Martha Armstrong, Christopher Evans, Paul Du Sold, Elizabeth Hazan, Gary Denmark, and Carolyn Meyer, among others.
In 2001 Michael died of AIDs leaving behind a significant body of work.
Read Less Read More
Selected Exhibitions
Still Lifes and Florals, John Pence, San Francisco, 1992
Not So Still, Haines Gallery San Francisco, 1990
Stilleben, Art & Be Gallery, Munich, 1989
Strange Fruit, Dolan Maxwell, Philadelphia, 1988
Woodmere Art Museum, Philadelphia, 1986
Waiting, 20th Century Gallery, Philadelphia, 1982

Selected Publications
Art Matters, Image Magazine, ART News, The Philadelphia Enquirer, The New York Times, Art Speak, The New Art Examiner, Chronicle Books
Selected Collections
Rutgers University, US Library of Congress, US State Department, Deitrich Foundation, The Franklin Mint, Kathleen Mulhern, Cheryl Haines, The Beverly Hills Hotel
Education
Pennsylvania Academy of Fine Art, 1986
Temple University, 1980