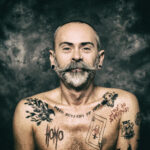 Chris Northey
b.1966
Since graduating in 2009 with a BA(Hons) in Photography from UCF I have continued to explore the male form as a means of expression in all it's (dis)guises. With influences ranging from the Hollywood Classicism of George Platt Lynes through the achingly haunting imagery of Francesca Woodman to the humour and pathos of Duane Michals - it is little wonder my portfolio has built into a somewhat eclectic mix. I have just returned to study for a Masters I am very excited to broaden my knowledge of critical theory in order to apply it to my personal practice.
Read Less Read More
I am a fine-art photographer born, bred & raised in Cornwall.
I am trying to fight the Cult of Youth, challenge Ithyphallophobia and embrace Androphilia in work that varies from being ethereally aesthetic to subjectively challenging. I endeavour to create visual statements that make up for my lack of verbal eloquence.
Taking my name from a combination of my earliest photographic influence along with my interest for the cyanotype techniques and my naturally melancholic nature; Man-Blu is this creator of imagery anchored to his home town by the smell of the sea.
I have been, and continue to be - 'shaped & fashioned by what [& whom]' I love