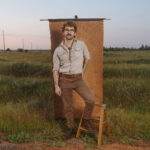 Christopher Bogard
b.1993
I'm a photographer and visual artist with a penchant for showcasing queer stories, whether it's drag, music, or a concept from my imagination.

Born and raised in Sacramento, California, I have always had a creative streak, and began studying theatre in high school after dabbling in graphic design and studio art. After a few years of performing in community and college theatre productions, I discovered a love for photography. I spent a few years studying studio photography before moving to New York City and working in multiple facets of the photo industry, and that led me to where I am today, with a diverse portfolio at my helm.

My background in studio art and theatre shaped my photographic perspective and gives my work a stylized and conceptual element, which lends itself to collaborations with drag artists, musicians, and actors.
Read Less Read More