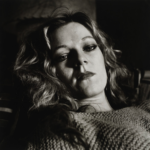 Dorothy Karen "Cookie" Mueller (March 2, 1949 – November 10, 1989) was an American actress, writer, and Dreamlander who starred in many of filmmaker John Waters' early films, including Multiple Maniacs, Pink Flamingos, Female Trouble, and Desperate Living. Mueller wrote the health column Ask Dr. Mueller for the East Village Eye and was the art critic for Details magazine. Her "Walking Through Clear Water in a Pool Painted Black" (1990) was the first book published by the Chris Kraus edited Native Agents imprint for Semiotext(e).
Mueller died from AIDS-related causes on November 10, 1989 in New York City, aged 40. Her ashes are interred in multiple locations: on the beach near Provincetown; in the flowerbed of the Church of St. Luke in the fields in Greenwich Village; alongside those of Vittorio and her dog Beauty in the Scarpati family crypt in Sorrento, Italy; under the statue of Christ the Redeemer atop Corcovado in Rio de Janeiro; in the South Bronx; and in the holy waters of the Ganges River. She was survived by her son, Max Wolfe Mueller, who appeared in Pink Flamingos.

The last of Mueller's quotes, an elegy of her intent and existence, was written shortly before her death:

"Fortunately I am not the first person to tell you that you will never die. You simply lose your body. You will be the same except you won't have to worry about rent or mortgages or fashionable clothes. You will be released from sexual obsessions. You will not have drug addictions. You will not need alcohol. You will not have to worry about cellulite or cigarettes or cancer or AIDS or venereal disease. You will be free."
Read Less Read More