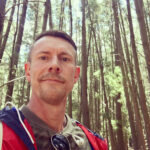 Daniel Cordner (Australia)
b.1976
I am a graphic designer, bike rider, nature lover and I am HIV positive. For the last 12 years I have worked as a freelance graphic designer. I have worked with range of clients such as with galleries, art magazines, HIV sector, circus companies and shows. Often my love for art and social change overlap in my freelance work.

Read Less Read More
This work is the first series I have created in some time. This project stemmed from a photography lighting project teaching myself some new skills. Over 12 months I gathered and dried collections of flowers locally and from around Victoria. As I began to create arrangements I began to see a new beauty that the flowers took on. They took on a fragility and also a new strength, like a resilient structure. Combining them in arrangements just increased their beauty. Over time I began to see the arrangements about change, and the change that happens with a HIV transmission.
From that moment of sero-conversion we become something different and may never be the same again. When HIV hides in our DNA we are changed forever. Something at our core is changed and our lives are changed forever.
When plants loose water they change and become something different. Their structure changes and they become fragile yet strong in new ways. A new beauty is retained and their shapes change. Their colour is retained but is now more long lasting.
This dead flower series is symbolic of a major change in our life. Sometimes great beauty and new strengths come from change. These flowers symbolize that change and how it can transform us into new places and sometimes unexpectedly. These changes are part of us and will always be. But allowing ourselves to accept them allows us to grow at the same time.
HIV and death are always closely connected. May these vases be for all those that have sadly passed before me. May their memory live on, as it is for them that I get to keep living.
As an artist, I hope that all HIV positive people learn to accept what HIV brings and that they all see their own new found strength and beauty. I hope to keep the conversation going around HIV so we can all work towards ending stigma, ending new transmissions and making sure all positive people have access to medication.