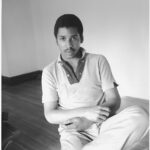 Darrel Ellis (1958–1992), a mixed-media artist known for his experimental approach to painting and photography, explored the psychic terrain between surface, memory, and lyric self-representation. A devoted admirer of the European tradition of painting, Ellis's expressive depiction of family members both living and deceased are odes to time immemorial and the notion of how we come to know ourselves through image and relation, desire and distortion. Working in part from his late father's photographs, Ellis developed a unique process whereby he projected, deconstructed, and re-imaged his family history, creating uncanny portraits marked by voids and warps. His commitment to the self-portrait was no less inspired, particularly after his experiences of being photographed by Robert Mapplethorpe and Peter Hujar. Ellis was on the cusp of major recognition when his life was cut short by AIDS in 1992, at the age of 33.
His work was included in Nan Goldin's exhibition "Witnesses: Against Our Vanishing" at Artists Space in 1989. In 1992, just months after his death, Ellis's work was shown in "New Photography 8" at the Museum of Modern Art, curated by Peter Galassi. A major retrospective of Ellis' work was mounted in 1997 at Art in General, curated by the artist Allen Frame, Ellis's friend and later steward of his estate. The show was circulated to five American art museums.
Portrait of Darrel Ellis by James Wentzy, ca. 1979.
Read Less Read More
Solo Exhibitions
2021
Darrel Ellis, Fundaziun Not Vital, Ardez, Switzerland
Darrel Ellis: A Composite Being, Candice Madey, New York
2020
Darrel Ellis: Matter, Galerie Crone, Berlin
2019
Darrel Ellis, OSMOS, New York
2003
Darrel Ellis: Family Distortions, Julie Saul Gallery, New York
1996–98
Darrel Ellis (Allen Frame, curator), Art in General, New York; Space One Eleven, Birmingham, AL; Tubman Museum, Macon, GA; Wolfson Galleries at Miami Dade College, Miami, FL; Art Museum of the University of Memphis, Memphis, TN (catalog)
1991
Darrel Ellis, Baron/Boisanté Editions, New York (brochure)
1983–84
Drawings from My Father's Photographs, Fashion Moda, Bronx, NY
1983
Drawings from My Father's Photographs, Anichini Gallery, New York
Selected Bibliography
Ellis, Darrel. Darrel Ellis. Artist's book. New York: Appearances Press, 1986.
Frame, Allen, Deborah Willis, and Susan Spencer Crowe. Darrel Ellis. Exh. cat. New York: Art in General, 1996.
Goldberg, Ariel. "In the Room." Art in America 106, no. 4 (April 2018): 56–63.
Goldin, Nan, ed. Witnesses: Against Our Vanishing. Exh. cat. New York: Artists Space, 1989.
Goldsby, Jackie. "What It Means To Be Colored Me." Outlook 3, no. 1 (Summer 1990): 8–17.
Hirsh, David. "Darrel Ellis: On the Border of Family and Tribe." In Disrupted Borders: An Intervention in Definitions of Boundaries, edited by Sunil Gupta, 118–26. London: Rivers Oram Press, 1993.
Montes, Lara Mimosa. "In the Stacks with Lara Mimosa Montes: Darrel Ellis." Coffee House Press (blog), August 28, 2019. https://coffeehousepress.org/blogs/chp-in-the-stacks/in-the-stacks-with-lara-mimosa-montes-darrel-ellis.
The Surrogate Figure: Intercepted Identities in Contemporary Photography. Exh. cat. New York: Center for Photography at Woodstock, 1991.
Willis, Deborah. Reflections in Black: A History of Black Photographers, 1840 to the Present, 187. New York: W. W. Norton, 2000.
Yee, Lydia. Urban Mythologies: The Bronx Represented Since the 1960s. Exh. cat. Bronx, NY: Bronx Museum of the Arts, 1999.