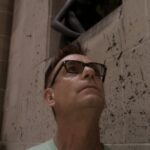 David Abbott
David B. Abbott's work throughout the 1990's and into the new millenium addressed contemporary political & social issues earning him the nickname of "social realist". The themes in his paintings are as varied as the rise & fall of the religious right in the US, political volatility & unfolding events around the globe and gay & lesbian politics in the wake of the HIV crisis.
Extensive world travel coupled with avid photo documentation and observance has given his subsequent acrylic work its distinctive, realist immediacy. David documents interactions on film, found anywhere from the backwoods of the European countryside to Main Street, America, and adapts them in acrylics. Moving through daily exchanges and surroundings, his varied characters visually compose their experiences of strife, intimacy, duress, tension or basic companionship. Many of the pieces reveal a tongue in cheek sense of humor allowing their subjects to laugh at themselves.
David was born and raised in the Boston area and educated at the Massachusetts College of Art. Moving to New York City, David's large color fieldwork caught the attention of the interior design director at Lord & Taylor's who used only his paintings for the walls of it's model rooms exhibit.
During the 1980's, David switched his medium from painting to photography, experimenting with the human form for the first time.
As the nineties began and into the 21st Century, David has resumed painting, creating digital images and working on a full-time basis for various non-profits. David is currently the office manager for Drug Policy Alliance. www.drugpolicy.org
He has also traveled extensively soaking up the atmosphere, color and the people he met, incorporating them into his large figurative acrylic works.
Abbott's 30-year career includes exhibitions in Boston, New York, Key West, Miami (South Beach), Fire Island, & Long Beach and San Francisco(CA).
Read Less Read More