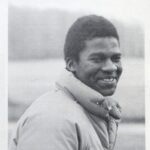 David Bethuel Jamieson was born at Saint Elizabeth's, a psychiatric hospital in Washington, DC, on October 9, 1963. His father and mother, Homer and Ethel (McCargo) Jamieson, were individuals in care.
David never knew his parents. He was removed from Saint Elizabeths at birth and placed at Junior Village Orphanage, Washington, DC, where he remained for approximately two years before entering into his first foster home. David was then placed approximately ten years with James and Mary Simmons, their daughter, Mamie; and, two other foster children. At that time, the Simmons retired from foster care and David was placed in two subsequent group homes, each briefly, over the course of two years. Through his history teacher Ted London, at Lincoln Junior High School, he met Hilda and Charlie Mason. Long time civil rights and DC Statehood activists, the Masons introduced David to Vermont through Farm & Wilderness Camp and their own property, now known as Wheelock Mountain Farm. Through Hilda and Charlie, David attended The Barlow School in Amenia, New York; and, after its closure, under the guardianship of Bill and Bridget Hoaglund, David attended Millbrook School in Millbrook, NY. Dave always credited Dylan O'Neil ('86) and other friends from Millbrook for convincing him to go to the University of Vermont.
After various odd jobs and cross-country travel, he entered UVM in the fall of 1983. During his years at UVM he was a student, artist, and activist, playing roles in the anti-apartheid movement for divestiture, the struggle for diversity, and the reestablishment of the Black Student Union. He studied American History and exhausted the art curriculum. He brought James Baldwin to speak at UVM in 1985, one the writer's last public speaking engagements before his death. David lived and worked in Burlington, Vermont; Provincetown, Massachusetts; and, Washington, DC during the years of the works in the current exhibition. In the fall of 1991, David Bethuel Jamieson left Burlington for the last time, traveling south to his studio and home at Walbridge in Washington, DC, visiting patrons, collectors, and those galleries with whom he'd consigned along the way. Working throughout his life, Dave's final months were spent in self-imposed isolation and chiefly dedicated to the completion of a series of works on paper, The Chalk Drawings, and one last painting. In April of 1992, having been hospitalized, David's isolation had come to an end. Maureen Leak ('86), who had returned to Washington to care for Dave, was joined by Peter Stebbins ('88), who returned home to perform David's hospice care. David Bethuel Jamieson died in a loft in New York City on July 30, 1992 of AIDS-related complications.
Bio from Peter Stebbins.
Read Less Read More