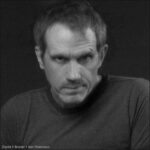 David K Bruner
b.1957
Look for my new b&w series 2016 October 30th, "Exposed:"! High contrast b&w politicaly motivated science fiction inspired digital photographic series --dkb
"David K Bruner-Photographer in San Francisco's Central Market Street district, specializes in HEADSHOTS & PORTRAITS that are unique, creative, and personalized to each individual." I also specialize in books / portfolios for actors & models and I design on line portfolios "digital portfolios". Headshots, portraits & promotional design for musicians and all types of internet photos. I shoot both digital and film, black + white and color. For digital, I use a NIKON D-7100 camera & occasionally my iPhone. I have also used an Olympus & a Panasonic. For film a PENTAX K-1000, Cannon F-1 & an old Polaroid Instant camera. I started photographing people at a very young age using an Instamatic Hawkeye and at the age of 14 started using a super 8 movie camera to create my own sci-fi productions. People are my favorite subjects, always have been. In Chicago, I worked for a production company and modeling agency. I also worked at a studio in Indianapolis. where I produced photographs for billboards in the area for a Diamond Co. I received grants to continue my photographic work. One grant from Art Matters in NY gave me more than a check, they were & still are very helpful to photographic artists living with AIDS. I have a degree in commercial art and won two Addy awards for photography & design while in the advertising industry. Before moving back to San Francisco, I lived in Long Beach freelancing for several magazines including Dot News Magazine Long Beach.
Tell me how you see your photos & yourself so i can style you & your entire image in a way that best suits you, men & woman. I also assist you with clothing and overall styling. I am always looking for interesting people to shoot, diverse, everyday people - people with unique and original tattoos, body shapes and androgynous looks. I am greatly influenced by San Francisco & it's people, Hitchcock, Si-Fi movies & music. I incorporate my photography, computer skills, and graphic arts background and channel it into other areas. Logo designs, original t-shirt designs & WALL ART for HOME or OFFICE.
I am available for shoots & consultations Tuesday-Saturday by appointment. I'm affordable and very confidential. For appointment, any questions or free consultation send us a message via this site or call 415 215-0083. For modeling opportunities send a snap shot to, deadlycamera@gmail.com.
I am not Inc. or a company. I have no one to answer to but my clients, you! I am a creative freelance photographer & a contract graphic production artist. I work with other local freelancers such as stylists, assistants, printers & models to give you top individual custom service. Look for my new series 2016 October 30th, "Exposed:"
© 2016 David K Bruner
Read Less Read More
Wheel
by David K Bruner
"I am entranced by The City. From the windows of my loft apartment above the heart of Market Street, I observe the pulse of The City. It's people, watching. The random entropy of the street, the recklessness of the cyclist, buses, street cars & people. Weave dangerously together as The City finds balance. This inspired me to create a series of photographs. The joy, innocence of the riders as they ride towards a solution for a greener future."
concept & design © 2012 david k bruner
Curriculum Vitae for David K Bruner - Photographer / SFCA
I am David K Bruner, a San Francisco Artist who specializes in unique & creative portrait photography. As a long term HIV survivor, I have found ways to use my art to stay active despite the limitations of my disability. Once a photographer for modeling and advertising agencies in Chicago, Indianapolis and Los Angeles, I now use my creativity to help promote emerging artists in the bay area. My portraits and designs have been used for recording artists, writers, actors & dancers and have been published in several magazines. I am also a two time recipient of the ADDY Award and was awarded a grant by Art Matters of New York. I am influenced by modern photographers such as Richard Alvedon, Annie Liebovitz & fashion photographers from the '50s & 60's. I live and create in my Mid Market loft, dubbed Studio dKb with my husband Dennis and our Miniature Pinscher, Dieter. My website and twitter blog are:

Please contact David at 415-215-0083 or 415-656-8dKb
30 Mason St
Unit 705
San Francisco, CA