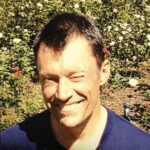 Interview with David Nelson by Nick Debs, April 14, 2000. Excerpt from Deb & Co exhibition catalog.
Nick Debs: You're making a print. In making the holes, you're making a print in the real landscape, and you don't see it all in one shot. It's just as much a print as the Train Man photograms. One might think of it as operating in a temporal way. This print comes together over time. That has something to do with my question about the performative aspect of your work. Your work is so visually striking, but much of your process takes place in the dark or with your eyes closed. It has to do with chance, too. The operation of chance in time; the dice and the waves, for instance. You mention the natural state of things alot. What does that mean? In my book, everything's natural. And nothing, nothing's what the hell does it mean. It;s an extremely loaded term. But with the landscape and anti-landscapes you're playing with the whole notion of the natural and unnatural.
David Nelson: I guess this came up before about landscape and using the inverted landscape, upside down or inside out, trying to make something ephemeral and temporal, but real. That comes out a kind of uncertainty that many of us are living with, living through the AIDS pandemic, or living with medications that are suspending our lives. There's an abstract side to taking these meds that's unknown, that you don't look into, that's like a shadow behind you. I think that's a real aspect of the landscapes.
I guess I mean this in a larger way - thank my taking meds for HIV. I see it as a symptomatic or the larger culture we're living in. It's like a species learning to adapt to environments. And we're toying with all that and we don't know what the consequences will be; does it have anything to doe with evolution? It all gets so complex.
EDUCATION
1983 BFA, School of Visual Arts, New York, NY
SOLO EXHIBITIONS
2002 Debs & Co, New York, NY
2000 Debs & Co., New York, NY
1998 Debs & Co, New York, NY
1993 Tracy Williams Gallery, Paris, France
1990 Petersburg Gallery, New York, NY 1984 56 Bleecker Gallery Ltd., New York, NY
1987 56 Bleecker Gallery Ltd., New York, NY
1984 Barbara Gladstone Gallery, New York, NY
1981 Barbara Gladstone Gallery, New York, NY
SELECTED EXHIBITIONS
2011 The House Of Thought, (Since 1980)
, Curator: Jonathan Berger, KARMA, New York, NY
2010 Movement Schmoovement, La Mama La Galleria. New York, NY
2009 Industry City Salon #1, Marian Spore, NY
2009 American Academy of Arts and Letters, Juried Exhibition and purchase donated to the Rahr West Art Museum in Wisconsin for their permanent collection in 2010 2000
2001 Sight of Construction, Curated for Visual AIDS, The Center, New York, NY
2000 Residents in Transience, Meyrlhurst University, Portland, OR
1999 Stars of Track and Field, Debs & Co, New York, NY
1997 Selections Fall '97, The Drawing Center, New York, NY
Very Large Array, Debs & Co., New York, NY
1996 A Living Testament of the Blood Fairies, Artists Space, New York, NY
AIDS' Communities/Arts' Communities, Boston Center for the Arts, Boston, MA
1990 Selection 48, The Drawing Center, New York, NY
1989 Songlines, Michael Klein, Inc., New York, NY
1987 Consonance, ISD Inc., New York, NY
1986 Mainly on the Plain, 56 Bleecker Gallery Ltd., New York, NY
Salon, Defacto Gallery, New York, NY
1985 ABC No Rio, New York, NY
Factura, Schlesinger-Boisante, New York, NY
Walls, Queens Museum, Queens, NY
New York Invitational, Schlesinger-Boisante, New York, NY
1984 Katonah Gallery, Katonah, NY Defacto Gallery, New York, NY
1983 Factura, Schlesinger-Boisante, New York
1983 NY Walls, Queens Museum, Queens, NY
1983 New York Invitational, Schlesinger-Boisante, New York, NY
1982 Visual Arts Gallery, New York, NY
GRANTS
1997 Braziers Workshop, Oxfordshire, England
1995 Joan Mitchell Foundation Grant, New York
REVIEWS AND PUBLICATIONS
Cotter, Holland, "In Brief: David Nelson at Debs & Co.", The New York Times, March 13, 1998
Cotter, Holland, "The Stuff Life is Made Of," Art in America, April, 1997
Cotter, Holland, "Selections Fall '97," The New York Times, October 10, 1997
Cotter, Holland, "Very Large Array," The New York Times, September 26, 1997
Vojtko, Joe, "Blood Fairies vs. The Monster of Chaos," Review, December 1996 1
Johnson, Ken, "David Nelson at Petersburg Gallery," Art in America, January 1991
Charles Miers, et al, New Art, Abrams Books, 1990, New York, NY 1
Mahoney, Robert, "Songlines," Arts Magazine, March 1989