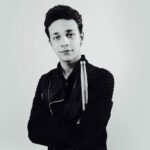 Davide Anselmi
b.1999
Davide Anselmi was born September 27, 1999, whose father played already perceived as the guitar, the latter fact will lead the world in music at the age of two years. At an early age is David maneuvered in playing a miniature beat signed Pearl. His musical journey continued until he was thirteen years old when he won the competition of Mike Mangini won the third place at the international level, and following a contract with Roadrunners Records. He later produced an album just physically distributed and entitled "Eclipse" which orchestral music is still used by the UK for the BBC's Top Gear program and the Discovery Channel for many television programs.
During 2014 David has produced three albums titled:
- A Series of Catastrophic Events Pt.1
- A Series of Catastrophic Events Pt.2
- Theory of Everything
In which there are extras such as John Petrucci, James Labrie and Jordan Rudess.
In September of 2014 she released their single called "Equation of Links" part of an album that was never distributed by the decision.
In December of the same year Davide joined the (PRODUCT) RED to the fight against HIV and AIDS by publishing a single called "Overture" with Hans Zimmer, made available for a month who were infected proceeds sent directly to ' association.
In October of the same album Davide distributed his latest album entitled "Walking Tragically" where we find present Michael Tilson Thomas and the San Francisco Symphony and Chester Bennington (Linkin Park Voice).
In 2016, Davide began production of his latest album, the most expensive, complex prog rock opera under 35.
In 2014 the Vinilificio of Rome commissioned Davide a transparent vinyl A Series of Catastrophic Events as a reward for the album itself and the previous ones, vinyl possessed in the recording studio of Davide.
In 2016, soon they joined him many sponsors like: OVER THE EDGE PRODUCTIONS, TAMA, Remo D'Addario, BBC Music. While as Endorsement Deal: Promark with its set of chopsticks, the IK MULTIMEDIA in partnership with MESA ENGINEERING which have produced a pair of HEAD CASE 4x12 and signature.
In 2014 the BBC commissioned Music Awards three awards as a foreign artist is not participating in the event, including:
- Best orchestral song of 2013
- Best orchestral composer of young persons under 18 of 2013
- TOP GEAR TV SERIES 2014 soundtrack
Read Less Read More