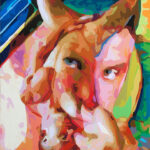 Donald Rizzo
b.1963
Donald Rizzo is an artist who sees the world through fragments; fragments of color, fragments of memory, fragments of space, and fragments of who people really are. His works are kaleidoscopic visions of vibrant color which stem from his dark personal experience dealing with depression with psychotic symptoms. Donald is nothing short of being his truest self and showcasing his unique eye that allows his viewers to create their own reality of what they see in his images.

Donald solo exhibitions include "Life Rebuilt: A Journey into and out of the Depths of Despair" at Market Street Gallery in San Francisco which tells his story of a drug induced psychosis, a damaged and decimated relationship with his children, and a downward spiral of guilt ridden self destruction to discover an artistic voice that has become his salvation. Donald also exhibited "Shades of Purple" for the Castro Country Clubs (CCC) grand reopening, which is a clean & sober gathering place for all people and a home for the queer recovery community. This show sought dialogue and the willingness to listen to another perspective in the hopes of finding solutions instead of placing blame to our many social and political issues.

His selected awards include; in 2015 winning the Four Points Contemporary 4th Bi-annual Juried International Art Competition for his work "Looking" and an Award of Excellence for "Gazzoni". In 2012 his painting "Mort" won the best in show at the American Art Awards. Donald has also received grants from Visual Aids.

Donald's work has been published in International Contemporary Artists Vol 10. His paintings have been featured in international Gay Lifestyle magazines including EGF and the City 2015 and Mate magazine, Spring 2014 issue.

He is represented by leading male figurative gallery, Gallery XO in Wilton Manors FL.
Read Less Read More
When I look back at something I have written I find myself saying what was I thinking. Maybe the reason is that I find written communication to be too concrete as a form of expression. Maybe it's because I was born under a full moon during a lunar eclipse. What I do know is I have never had that experience when I have looked back at one of my paintings.
My process and technique developed from a two and half year psychosis. I found myself staring at reflections, the more uneven the surface the better. Reflections in three or more surfaces where bits of information was used from the multiple planes the more intriguing I found them. I looked at these reflections to discover a hidden image or message. I also found raster images with jpeg artifacts of interest. Sometimes I found messages by looking at the image up close; other times the image had to be looked at from afar. As time progressed, I understood this to be my sub conscience mind communicating with my conscience mind.
The technique I've developed I refer to as Abstract Realism or color juxtaposition. I wanted to bring the viewer into the painting. By painting distinct shapes of color, the viewers sub conscience and conscience mind had to deconstruct and reconstruct the fragments of color into something the viewer recognized. By viewing the painting up close one perspective is seen but, seeing the painting from afar, a different perspective is seen. It is the viewer that blends the color, not the artist. The viewer brings to this process their own perspective, their life experiences and history. Each viewer sees the image differently. These paintings are anything but concrete.
"Shades of Purple" Artist Statement: We are a country of individuals representing a multitude of colorful beliefs – red, blue, crimson, navy, scarlet, indigo, magenta, and lavender. We are many "Shades of Purple". A fiscal conservative may be enthusiastically in favor of marriage equality. A social liberal may support tax reductions and a balanced budget. We are complex individuals on a wide ranging spectrum. We are more than just a color on a newsroom whiteboard. We are not a political agenda, nor should we be used as a wedge issue . We are individuals. Multifaceted, sometimes contradictory, always complex individuals.
We forget that we are more than a cause or a political party, and we entrench ourselves with "our side's" agenda. We dig our heels in, bury our heads in the sand, and ignore the complexities of the situation. We fight so hard for what we are told we should believe or for what we believed in the past that we can forget to consider that our opinions and priorities might change based on our life experiences.
Politics is not the only place that this happens. Religious institutions forget that they must evolve and continue to support outdated and inhumane social stances. Nonbelievers hold on to tyrannical associations with religion and assume that all faith is oppressive. Couples overlook the fact that their partner had a different upbringing and may have different priorities. The list goes on and on and on.
We become frustrated by the inability of some people to think outside the box. It is easier for some to come to their own conclusions, stereotypes, and categorizations about others – and themselves – than to really listen, consider, and evaluate the issue. Individuals do not fall neatly into little boxes of preconceived definitions perpetuated for the ease of those who are too uncreative to imagine an alternate definition.
The time for sound bites is over for now. We need to move our conversations to a more productive and less condemning place. With a little bit of humility and the willingness to listen to another's perspective, we might just have a chance to talk about solutions instead of blame.
Exhibitions
2014
Solo
"Community: A Collection of Portraits" 2262 Market St, San Francisco, CA
"Shades of Purple" Castro Country Club, San Francisco, CA
"Life Rebuilt" Market Street Gallery, San Francisco, CA
Juried
"First Impressions" Las Laguna Gallery, Laguna Beach, CA
2013
Solo
"Abstract Verism" Market Street Gallery, San Francisco, CA
Juried
"83rd Annual Statewide Exhibit, Incredible Places: Contemporary Landscape Painters of California" Santa Cruz League, Santa Cruz, CA Michael Zakian
2012
Solo
"Shadows, Secrets and Silhouettes" CCC, San Francisco, CA
2011
Juried
"Figures and Faces" Pacific Art League, Palo Alto, CA JoAnne Northrup, Chief Curator at the San Jose Museum of Art
2010
Solo
"Fragments of Color" Magnet, San Francisco, CA
"Porcelain Moments" Bagdad Cafe, San Francisco, CA
2009
Juried
"Annual Student Juried Exhibition" City College of SF Gallery, San Francisco, CA
"Diversity" Mayor's Office of Housing, San Francisco, CA
Awards
American Art Awards 2012 Best of Show for "Mort"
American Art Awards 2011 Multi-Category award winner
Publications
Just, Felix. "Donald Rizzo has no Secrets". Mate: #41, p82-88. 5 Mar. 2014.
Wisniewski, John. "Fragments of Donald Rizzo". The Eye of Faith. 20 Sep. 2013.
theeyeoffaith.com/2013/09/20/fragments-of-donald-rizzo/
Gillespie, Deb. "Donald Rizzo: Fragments of Color." www.dorothysclosetsanfrancisco.com. Ed. Covey, E. Scott. 2 Mar 2011.
Van Iqulty, Dana. "Rizzo Paints with Fragments of Color" Bay Times. 12 Aug. 2010.
Del Mar, Pollo. "Pollo is Nothing More Than Fragments of Color" Bay Times. 12 Aug. 2010.
Education
1985 Kent State University, Kent OH BS Applied Mathematics
1993 University of Idaho, Moscow, Idaho MS Software Engineering