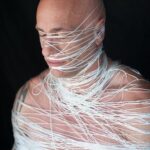 Dudley Saunders
b.1962
Dudley Saunders is a trans-disciplinary artist whose work explores the hidden lives of marginalized people in: performance art, video, fiction, documentary film and experimental folk music. He is currently working on a multi-media project titled "In These Boxes."
The Kentucky native first began performing his "surreal, modern folk tales" (Village Voice) to downtown New York audiences in the late 80s. He is best known for his four music albums RESTORE, THE BILLY WHITE ACRE SESSIONS, THE EMERGENCY LANE and the recent MONSTERS.
He has received writing fellowships from Yaddo, The Edward Albee Foundation and the Atlantic Center for the Arts, as well as grants from the Joyce Mertz-Gilmore Foundation and Meet The Composers. He has contributed fiction to The Kenyon Review and journalism to such magazines as The Village Voice, Interview and Rolling Stone.
He has also written and performed four evening-length performance art pieces, SECOND SLEEP (The Pyramid Club, 1990), THE LONG SWALLOWED HAIR (OR FAGGOT SKIN) (The Kitchen, 1992), BIRDBONES (The Kitchen, 1994) and DEATH BLUES (Dixon Place, 1995), which New York Press selected as Best Musical of the Year.
He has twice collaborated with Heather Woodbury on the award-winning, multi-evening epics WHAT EVER and TALE OF 2CITIES, the latter of which received an OBIE Award for Ensemble Performance. Recently, he directed and dramaturged John Kelly's THE ESCAPE ARTIST at PS122 (2011) and performed in Chris Rael's ARABY at Dixon Place (2009).
Other recent awards include the 2009 Outmusic Award for Best Album and the 2011 Mountain Stage NewSong Contest for the Western Region.
In film and video, he won the Aurora and Prism Awards for his 2002 documentary THE PROCESS, and the 2012 Promax Gold Award for his public TV interstitial series MORE: THE REAL CREATURES OF PRIMEVAL. He currently lives and works in Los Angeles.
Read Less Read More
IN THESE BOXES: An online cemetery for things the dead left us
Someone died and now you have their things. Or maybe just one thing. It might not even be valuable. An old spoon or a glove. But you can't bring yourself to throw it out.
You can leave it "In These Boxes." Take a photo and post it to Instagram with the hastag #InTheseBoxes. If the object has meaning you can put into words, write it in your post.
Your photo will live at www.InTheseBoxes.com and will also be incorporated into my transmedia piece IN THESE BOXES, which I'll be performing in communities around the country in 2014.
About IN THESE BOXES
In the fall of 1991, my two ex-lovers died of AIDS within two months of each other. What made it worse was realizing that nobody who remembered us together was still alive. My past life had suddenly become extinct.
Their few objects became for me the evidence that they had existed. How many other lives had disappeared, were disappearing every day, leaving objects like these that no one could interpret? The hidden meaning in ordinary objects haunted me.
Using a combination of video, song and text, IN THESE BOXES tells the stories of lost people through the objects they left behind. Some of these stories are fictional but all of them are real. I would be honored if I could include the evidence of our loved ones' missing lives in this piece too.