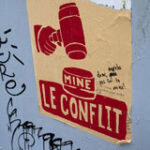 Duncan McLaren, based in Toronto, has been photographing the look of the street since 1971, including its ever-changing texts found in billboards, signs, graffiti, and posters.
His work has been shown at Jet Fuel, This Ain't the Rosedale Library, the Gallery at University of Toronto, Scarborough, the Multicultural History Society of Ontario, the Canadian Lesbian and Gay Archives, and Photorama at Gallery TPW. In 2011 he exhibited in Toronto at Propeller Gallery, The Black & White Ball, and at AWOL Gallery, Missed, a solo show of photocollages based on Craiglist's "Missed Connections" classifieds. One of his photos was included in "The Sex Offensive: Emancipating Gender," an official World Pride affiliate event, Propeller Gallery, June 19-29, 2014.
Duncan McLaren studied visual art at Queen's University, the Ontario College of Art and Design, and has an MLS from the University of Toronto.
Read Less Read More