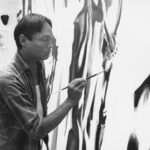 Ed Aulerich-Sugai
1950–1994
Ed Aulerich-Sugai was an Asian-American artist born in Honolulu and raised in Tacoma, Washington. He received his BFA in painting in 1974 from the San Francisco Art Institute. His work was strongly influenced by his Japanese heritage and his experience of living with AIDS. Ed used the symbolism and power of traditional images and reframed them in a personal landscape of meaning and iconography. He developed a deeply subjective representational approach to his work.
Ed's work encompassed many genres, from the mural to sculpture and various book arts.
His works have been exhibited in San Francisco, Los Angeles, Seattle and West Virginia, and appear in numerous publications, including One Hundred Legends, images created by people with AIDS. In 1989 he was interviewed by Spalding Gray in the live conversation performance, "Talking about Living with AIDS."
Ed worked in the Conservatory of Flowers in Golden Gate Park. In 1989 he won the Best Small Garden award for his home garden from the Berkeley Horticultural Nursery.
This tribute page was created by Visual AIDS.
Read Less Read More