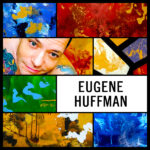 Eugene Huffman
b.1973
Eugene Huffman (aka liebeKunst) is an established Los Angeles based artist whose painting style has been described as "abstract expressionism with non-repeating patterns that reference life through a lens of survivial, using his artwork as an outlet for his brave and powerful openness of his out status of an HIV-Positive artist." Dealing with the expression of personal psyche, hidden images often reveal themselves in his pieces.
As an Out HIV-Positive gay man, Eugene's appearances and gallery shows often include benefits for various LGBT and HIV/AIDS organizations. He was recently named as one of HIV Plus Magazine's "Most Amazing HIV-Positive People of 2016." Additionally, Eugene works as a freelance Graphic Designer for various clients and publicity firms, and has served as a resident celebrity artist and Art Director for the Art Hearts Fashion Gallery for LA Fashion Week.
Eugene's recent works showcase experimentation with various found materials and fabrics to create varied and intricate texture and pattern. The works exhibited also explore the Japanese philosophy of Kintsugi, in which broken items are repaired with gold and silver, treating breakage and repair as part of the history of the object, rather than as a flaw...relating to the journey and expression of the self, the metallic adds value, illuminating the broken parts of ourselves and embracing it as part of a history to be valued.
Read Less Read More
Art has always been an intrinsic part of my life. Abstract Expressionism has proven to be the mode of expression that speaks to my soul, and one that I can communicate with. Watching the process of my work over the years, I can truthfully say that I've found my "voice" – a formula, if you will, that works for me. The creation of art is a sacred experience to me – it is taking everything I have internally, exploring those emotions, trusting my raw instincts – and then translating them to the language of paint on canvas. Color, saturation and composition are important elements to me – not only do they catch the eye, they also reveal the intensity and depth of expression and feeling. I also love hearing the stories told by the viewers of my work – as they relate the stories that my compositions speak to them.Often enough, the emotive intention of what I have created comes across. This, as an artist, makes me feel like I have "done my job" – since art not only involves the creation and process of the piece, but the experience of the viewer as well.
EUGENE HUFFMAN (b. 1973, Carmichael, CA)
EXHIBITIONS
February 2018 - RESIST Gallery at the McCadden Theatre for the Vagina Monologues, Los Angeles CAJuly 2017 - Group Exhibition (Artist - Curator) OUTFEST/ArtShareLA/Angel City Brewery, Los Angeles CAJuly 2017 - Group Exhibition (Artist - Curator) - humanKIND @ The Andaz West Hollywood, CA June 2017 - Group Exhibition, PROUD @ The Studio Door - San Diego, CA
2014 -2016 - Group Exhibition, Art Hearts Fashion - Los Angeles, CA2016 - Solo Exhibition, LA Artcore - Los Angeles, CA2016 - Vet50, Group Exhibition, LIMS - Castaic, CA2016 - Art Project Los Angeles, Bonhams - Los Angeles, CA2014 - Solo Exhibition, Mageía, Ty Rose Art Studio - Costa Mesa, CA
ARTISTS STUDIED UNDER
Scott McMillin/Ty Rose
ARTICLES