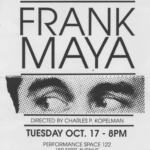 "Frank Maya, a comedian and performance artist who was one of the first openly gay male comics to gain a foothold in mainstream stand-up comedy, died on Monday at his parents' home in Manhattan. He was 45.
The cause was heart failure related to AIDS, said his sister Janet.
Mr. Maya, a high-energy, hyperanimated performer who affected a sardonically hysterical tone on the stage, was born in Queens and reared in Babylon, L.I. After graduating from Hofstra University in 1972, he began his career as a singer, songwriter and poet, appearing extensively in clubs around Manhattan. He also appeared in John Jesurun's avant-garde theater serial, "Chang in a Void Moon."
By the 1980's, he had redefined himself as a performance artist delivering musically inflected solo monologues that he called "rants." Three shows -- "Frank Maya Talks," "Get Out of the House" and "Unauthorized Autobiography: An Outing for the Whole Family" -- were presented in New York spaces that included LaMama, Performance Space 122, the Kitchen and Alice Tully Hall (as part of the Serious Fun series at Lincoln Center).
In the early 90's, Mr. Maya redefined himself again as an openly gay stand-up comedian, and he became the first such comedian to appear on MTV's "Half-Hour Comedy Hour." He also starred in his own half-hour special on the Comedy Central network.
He appeared regularly at Caroline's Comedy Club in New York City, and his one-man show, "Paying for the Pool," ran at the Atlantic Theater Company for eight weeks in the fall of 1993. A portion of that show is included in the recent anthology "Out Loud and Laughing" (Anchor Books)."
- Stephen Holden, August 10, 1995, New York Times
For more of Frank Maya's music and performance videos: https://vimeo.com/channels/frankmaya
Read Less Read More