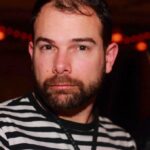 Frank New
b.1983
My name is Frank New and I am a Freelance Fashion Stylist, Visual Merchandiser, Window Dresser, Event Producer based in New York City. I also dapple in photography which has become a hobby and an outlet of creativity that has landed me in multiple exhibitions here in NYC. I a native of New Orleans and have lived in NYC for the last five years.
Currently, I am self employed under the established name of Man-Your-Style. I work with a variety of clients from fashion to event production.
Read Less Read More
As an artist I try to be as organic as possible in my work and let the lens guide me. Having such a keen eye for detail I notice almost everything and I try to find a little piece of beauty in what has caught my eye through photography.