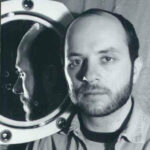 A prolific artist whose photography and painting reflected his queer community and life, as well as exemplifying his Southern and urban roots. He was born in Hobbs, N.M. and grew up in Columbus, GA and Alabama. He received his BFA from the Cleveland Institute of Art and a MFA from the Maryland Institute Graduate School of Painting, which resulted in gallery and museum shows in Baltimore and Washington D.C.. He soon after moved to Manhattan and founded the company, The American Postcard Company, and the drag queen fundraiser "Night of a Thousand Gowns" in 1986, which raises money for LGBT and HIV/AIDS organizations and continues to this very day.
He is most widely known for being the first director of the Leslie-Lohman Gay Art Foundation in 1990, and it is there that his his legacy lives on through "The George Dudley Archive".
This tribute page was created by Visual AIDS.
Read Less Read More