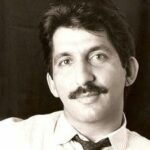 George Stavrinos
1948–1990
A graduate of the Rhode Island School of Design and a member of the Society of Illustrators Hall of Fame, George Stavrinos is remembered for his fashion illustrations for clients such as fashion retailers Barney's, Bergdorf Goodman, and the men's fashion magazine GQ.
Stavrinos entered the conscious of many gay men through his work for the 1977 publication Gay Source: A Catalog for Men. His work appeared in numerous magazines, including Blueboy and Christopher Street. His work illustrated an excerpt of Paul Monette's first novel, Taking Care of Mrs. Carroll, which appeared in the August 1978 issue of Blueboy.
Mel Odom told the Advocate: "George and I were good friends and neighbors . . . we lived ten blocks apart and he went out of his way to befriend me. George was a doll. A very sweet, complicated man with a huge heart and tons of talent."
At the time of Stavrinos's death, at age 42 of AIDS-related illness, he was discussing working with Jim French at Colt Studio on new male erotic work.
This excerpt is taken from the Leslie-Lohman Museum of Gay and Lesbian Art exhibition Stroke: From Under the Mattress to the Museum Walls.
Read Less Read More