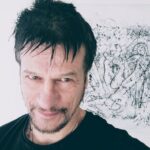 Glen Mendes
b.1979
" I make new art from explorations and travel "focusing on specific sites and fieldtrips.
Born in a seaside town, I currently live in London, studied art at Heatherley's in Chelsea and at Newlyn art school I graduated in fine art, painting illustration and visual media at Wimbledon and Camberwell UAL.
I found indoor studio spaces were claustrophobic preferring open spaces my studio is when I am out on location and it is where I gain inspiration and space to plan.
My artwork often depicts struggle against adversity and fighting the odds it's a hidden mysterious unseen battle an act of balance.
I research and strengthen my image bank visiting art gallery's recreating new art from old art.
Choosing a site becomes an intimate process of observation and an act of creation in time, space and place, found objects, I take photographs and video that can transform a mundane space into a poetic land art language.
This is my art practice and it has its roots in travel as an experience, it gives body and authenticity to the work.
Currently my practice concerns developing a form of shamanic meditation a land art connection within the specific site I start with a few notes and rough sketches these begin to form a map, imagine what it would be like if you could draw a diagram of your thoughts, when connected energetically to a landscape, where the lines produced are a language that translates as drawing, painting or photograph.
Read Less Read More
My art practice is adaptive an act of Placement and displacement within landscapes. I have roots in travel as an experience. My abstract artwork is a mirror and often depicts struggle against adversity and an act of balancing the odds a derive' hunt for the hidden mysterious and unseen.
Glen Mendes
BA Hon's Fine Art – Painting Wimbledon UAL 2015
MA Illustration Camberwell UAL 2017
Education
Heatherley's Art Lab 2010
Newlyn Summer School workshops 2012 -2014
2012-15 UAL Wimbledon Bachelor with Honours of Fine Art /Painting
2012-15 UAL Camberwell, Masters of Illustration and Visual Media
Research Project
2016 MFA Project Artists who Hunt "I Follow Rivers". Land Object Land Art Land Song, The River Thames.
2018 The Sun and the serpent
Artist Residencies. Internship Achievements
2017 4 weeks at Mac Beth production IRIS Theatre Covent Garden as scenic artist
2015 4 weeks in a cloud forest South America planting trees.
2014 5 weeks in Mexico St Lewis Potosi Desert with a Shaman artist
Review Awards Prizes Exhibits
Artist Seasons 2017. Art Exhibition. U Tube Digital Art Gallery.
Light Space & Time Award Merit for Abstract entry "We Are Nature'
Edinburgh Review Sphere 2017
Stevenson Award
1st for a drawing talking heads at Drama workshop at Pentonville Prison. January 2018
Research Interests
Psychogeography, Drift Photography, Land Mapping