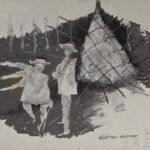 Gordon Kurtti
1960–1987
Gordon Stokes Kurtti was an American artist, writer, illustrator and performer and a seminal figure in the early East Village art scene of New York City.
He is best known for his finely drawn caricatures of celebrities and historical figures and for his Dickensian portrayals of children and New Yorkers of every ilk. Gordon was a member of Allied Productions, a not-for-profit arts organization based in New York City, and collaborated on many performances, films and arts in education workshops. He exhibited at ABC No Rio, Armageddon, The Pyramid Club, 8BC and Life Café.
Gordon was one of seven children born to Claire Marie Kurtti (nee Stokes) and Jeremiah Joseph Kurtti in Yonkers, New York. He was shy and somewhat introverted but known for his love of reading and early artistic abilities. Gordon had a vivid imagination and an affinity for comic book art, monster movies, fashion and outer space. He grew up drawing elaborate spaceships complete with flight instructions and statistics. He admired and drew mythical heroes like Prince Valiant and was inspired by Hamlet, the first existentialist. He was accepted into New York's School of Visual Arts at a time when alumni such as Keith Haring were exploding onto the downtown New York scene. There he met and formed a lifelong friendship and artistic relationship with classmate Kembra Pfahler.
Gordon collaborated on art projects with many of his peers including Jack Waters, Peter Cramer, Carl George, Bradley Eros and Aline Mare of Erotic Psyche, Valerie Caris, Leslie Lowe, Brad Taylor, Edgar Oliver and others. But it was with Kembra Pfahler that Gordon created ground breaking early performance works and a lasting bond. The two young artists presented some of downtown New York's most interesting and innovative performance art pieces at the newly opened Life Café, 8BC and Danceteria. In 1984 Kembra and Gordon organized The Extremist Show at ABC No Rio in the Lower East Side – an important exhibition of many of New York's sub-culture artists and groups including P.O.O.L., Samoa and his punk rock band BALLS, The Church of the Little Green Man, The Cinema of Transgression featuring the films of Nick Zedd, Lydia Lunch and Richard Kern, Borbetomagus and Red Dog Magazine.
After art school Gordon began training as an illustrator for advertisers, boutiques and the fashion industry including burgeoning designer Diane Pernet. He also worked in the art department of The Limited Company creating "flats" - sketches for fashions sold at mass market retailers. He collaborated with Carl George on a showroom design for Yumi Katsura – Japan's pre-eminent wedding gown designer and on the fashion show launch event featuring a young Brooke Shields closing the show wearing her first wedding gown. Gordon designed the stage and room decor for one of the first AIDS fundraising events for the Henry Grethel menswear line in 1986.
Gordon was an early collaborator on many experimental film works by Carl George, Jack Waters, Bradley Eros, Leslie Lowe and Brad and Brian Taylor. He, like most of his friends, wore many hats from cameraman to set designer to lead actor. Sets often consisted of whatever was found on the street and easily painted, hung or reconfigured. Costumes were assembled from thrift shop racks, flea market finds or abandoned closets. The preferred medium was Super-8 film easily cut and edited on a kitchen table. Screenings were organized through Naked Eye Cinema, the media branch of Allied Productions and took place at The Filmmakers Co-op, Millennium, Anthology Film Archives, ABC No Rio, abandoned lots, alleys and nightclubs. Many of the films including The Lost 40 Days, La Belle Fleur and DHPG Mon Amour by Carl M. George and Nocturnes and The Blond Leading The Blond by Jack Waters now reside in the permanent collections of The New York Public Library, The Library of Congress, The Museum of Modern Art, NYC, The Whitney Museum, The Guggenheim Museum and other important collections and archives.
Read Less Read More