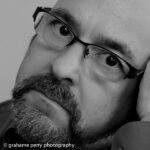 Biography A San Francisco Bay Area photographer creating interesting and artful images.
I have been working on two series, "Am I Blue?" and "Materials of Survival" , both exploring long term survival and HIV/AIDS.
The series, Materials of Survival, is/was in a solo show at Magnet SF in San Francisco in November 2015 (http://j.mp/magnet-show).
Several of the images from these series have appeared in group art/photography gallery shows. In June 2015, I was one of three artists (with Hunter Reynolds and Frank Yamrus) in the "Long Term Survivors Project" at San Francisco Camerawork (www.SFCameraworks.org).
Especially drawn to street photography, urban landscapes, community events, travel, and night photography. Born in London, coming to the U.S. when I was young. I attended U.C. Berkeley where I received a B.A. in Psychology. After a career in computer support, I returned to school in the mid-2000's, I discovered a passion for photography and received an A.S. in Photography. I had solo exhibitions and coordinate the 81 Bees Photo Collective.
Read Less Read More
Statement for "Materials of Survival"
This body of work is called "The Materials of Survival" and uses the drugs and other paraphernalia that HIV+ people needs to interact with in order to live with this disease.
The effects of years of struggle, uncertainty and survival has creating unexpected symbols and unforeseen reactions. Visual images capturing different aspects of being positive. How the antiviral cocktails achieve a larger meaning and a grander design. Memories of a test changing everything. Understanding communications typed in a foreign syntax necessary to live, How the old practices of safe sex have opened up with new horizons.
It grows from my experience as a HIV+ man and a long term survivor. Facing HIV has been a major task of my adult life. These images expose the struggles that might exist alongside well-being and gratitude.
You can see the work here or at my website - http://grahameperryphotography.com/materials-of-survival/ My other series on HIV and Long Term Survival is "Am I Blue?" which can be seen here: http://grahameperryphotography.com/am-i-blue/