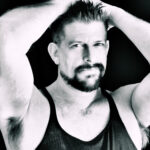 Photographer, self-taught, beginning with webcam in 2007, still only using point-and-shoot in 2013.
.
Photography has been published/web-featured/discussed in/on www.cnn.com, POZ Magazine, A&U Magazine, Positively Aware Magazine, Chelsea Now, NEXT Magazine, Leslie Lohman Museum of Gay and Lesbian Art Journal/Archives, and an Italian magazine of which I can't recall the name, not that I understood what the magazine's title meant in the first place..
.
Numerous group shows at Leslie/Lohman Galllery Museum of Gay and Lesbian Art and GMHC exhibitions. Solo and group shows at Camp Rehobeth Gallery. One of the four photographers chosen for the first year of Visual AIDS' Play Smart" broadsides campaign. Work included in the publication NOT OVER: Twenty Years of Visual AIDS. Three time grant recipient/Visual AIDS. Work included in the collections of Leslie Lohman Museum of Gay and Lesbian Art, Camp Rehobeth, Victoria's Secret, Tony-award winnning actors Betty Buckley and Gregory Jbara. By-request donor for auctions benefiting Lesle Lohman Museum of Gay and Lesbian Art. Participant/donor to Visual AIDS' Postcards From the Edge since 2009.
.
B.A., summa cum laude, English. J.D. cum laude. Columnist for Gab Magazine, Chicago, and for Out and About Travel/national. Faculty (History of Musical Theater), Actor (Roy Cohn/Angels in America (Best Actor,/Grand Awards), Brick/Cat on a Hot Tin Roof, Felix/Odd Couple, Antonio/The Merchant of Venice, Tom-Leslie-Phyllis/Sylvia, Dracula/Dracula, Smokey/Damn Yankees, more - find a self-loathing, conflicted closet case role which requires good hair, and I'm there.
.
Diagnosed with the HIV virus in 1989; lost my one sibling (also gay), Mark, to AIDS in 1993, now twenty years ago.
Read Less Read More
I've been so lucky to have proven F. Scott Fitzgerald's famous quip (i.e.., "There are no second acts in American lives." to be so very wrong. By way of demonstration (not in chronological order, I've practiiced private (megafirm) and public (City of Chicago) law, have written a regular column for a cutting edge street zine (Gab Magazine) where i had total freedom to write about any subject which intereested me (so from Karen Carpenter to underwear parties to coming out of the "Second closet" by being brave enough to openly say "yeah, I'm HIV poz"
.I've been on college faculties teaching the "History of Musical Theater" and I started acting, sans experience or training, and in three years had an acting c.v. that any actor would kill for -- all in three years. That's a lot of words; hence, my ultimate stage fright affilction -- since I arrrived in NYC in 2004, I've done truly magnificent work as an extra in some odd Omar Sharif Egyptian Hart To Hart-like tv show, and sat next to Brooke Shields in a fashion show sequence for her rapid-fail "Lipstick Jungle" series. Oh, and I was cast as Fafner (the dragon in Wagner's Ring Cycle -- but wearing modern day dress and lypsynching the German lyrics to a heavy metal soundtrack -- that one played art galleries and museums throughout the US and Europe. In any event, I attribute my being cast in all of those radically diffferent roles because I have really good hair that you can cut, grow, and color at will)
. I've run a successful independent bookstore on Eighth Avenue in Chelsea (leaving it after a year due to the Napoleonic-complexed owner; I did stay the courrse until I completed a mind-boggling event/gift from the beloved Willl Schwallbe (then editor of Hyperion Books, specifically Will offered me the exclusive reading/booksigning for the 2006 release of Andrew Holleran's first novel in a decade (that is entitled "Grief"); if you don't know Hollleran, he's certainly in the top three (or two, or one) gay writers of this century or the last, achieving iimmediate immortality with his dazzling 1978 debut novel "Dancer From The Dance.">
I know I've buried te lead way down here: I am totally self-taught as a photographer (and my work is expanding through further self-education) into film/video editing, sand set/stage lighting (test me on the number of any Rosco gel and its best use -- yes, I am OCD among many things), sound reengineering and remastering of material not always current, and there's always a new Pho5oshop to learn.... My friend, Spencer Cox, who was a brilliant HVI/AIDS activisit (actually, Spencer was just plain brilliant) saw my photos in my apartment (I had never shown or told anyone about the photography, and I was also at the time poor enough that all I had to work with was a webcam) Spenncer said in my charmingly encouraging way "[y] really need to show somebody these....." Surprisingly I actually took Spencer's advice;. I had allready missed an important NYC gallery deadlilne, but I bit the bullet, emailed the curators a handful of jpgs, they called back the same dday and said come and see us tomorrow, and tomorrow brought their selection of three photos to be included in a photography gallery show which included brilliant, legendary photogs, who I'd admired for years, and I felt I shoulld bea polishing their boots or running to get them lattes rather than sharing wall space with them. But that show led me to Visual AIDS, my first of four materials grants, participating in 20 or so gallery shows since my first in 2008, publication of my photos locally, nationallly, internationally, and on cnn.com. And I was totally thrilled to be included as one of the first four photogschosen by Visual AIDS for VA's first "trading card" broadside effort, which through its brilliant concept turned into a publicity ride for VA which lasted close to a year and literally thousands and thousands of these "Get Your Game On" packets were distributed through the US and beyond. You can see those three photos in my gallery here (the swimmer,, the wrestler, and some elderly guy wearing a singlet as well (er, the old guy is me.....).
Having worked with a number of nonprofit orgs, both at one point providing pro bono legal work, and later, using the NFP's servfices as a clilent, I can without hesitation say that Visual AIDS is one of the best-run NFPs I've seen anywhere (and the VA staff and vollunteers and interns put the rest of NYC to embarrassing shame). Their generosity,, unwaiivering help, and their consistent help of keeping me on my feet rather than expiring of the wild self-criticism and lack of self-esteem I inflict upon myself -- quite simply, Visual AIDS has helped to keep me alive, by giving me something about which to care