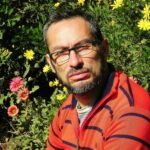 Guillermo Moscoso
b.1972
Guillermo Moscoso (1972-Chiguayante, Biobío Region, Chile), performer and visual artist, dropped out of the Art School of Universidad de Concepción in the middle '90s to start a personal work from poetry, and engraving. There he connects with political organizations while militating in Positivamente Positivos, an aggrupation of people living with HIV/Aids in Concepción. In this collective search to make visible a critical issue in the post-dictatorship Chile, the artist suddenly begins to act with his own body. In a xylography series made between 1996 and 1998, his first alter ego was born: el ángel indulgente, a dark aesthetic character that lives in a dark and fantasy imaginary, in the realms of the epidemic, the disease, the social stigma, nostalgia, and death.
From within Positivamente Positivos, Moscoso produced installations and art actions in political doings and commemorative dates, being also a participant in collective achievements as relevant as the universal access to the antiretroviral treatment and the Aids law in Chile. His first actions took place in cultural organizations or activists meetings, underground parties, and in self-managed and counterculture spaces in Concepción. There he interlinked political activism and art production in a context characterized by horror and the loss of his closest friends due to Aids.
Coming from the Biobio Region, Moscoso's visual production has moved from the underground to diverse expository spaces, both public and institutional places (museums, art galleries, and cultural centers), participating with works and exhibitions at the Pinacoteca (Universidad de Concepción), National Fine Arts Museum in Santiago de Chile, Spain, and Ecuador. His work has been an invitation to reflect around the relational possibilities of visual arts, establishing the link between art and politics that demands the social context of Chile in the XXI century; activating critical dialogues about local contexts and territorial problematics, and generating a critical questioning to the dominant powers, ecclesiastic institutions, the state, and the capitalism system while awakening the collective and personal memory, our historical wounds, and desires as a society.
Guillermo Moscoso (1972-Chiguayante, Región del Biobío, Chile), performer y artista visual, abandonó la Escuela de Arte de la Universidad de Concepción a mediados de los años 90, para comenzar un trabajo personal desde la poesía y el grabado. En ese tiempo, se conecta con organizaciones políticas, militando en Positivamente Positivos, de personas viviendo con VIH/Sida en Concepción. En esta búsqueda colectiva por visibilizar un tema en crisis en el Chile de posdictadura, el artista da pronto un salto al accionar con el cuerpo. En una serie de xilografías realizadas entre 1996 y 1998, nacería su primer alter ego, El Ángel Indulgente, un personaje de estética dark que habita en un imaginario fantasioso y oscuro, los momentos de una epidemia, la enfermedad, el estigma social, la nostalgia y la muerte.
Desde Positivamente Positivos, Moscoso producía instalaciones y acciones de arte en actos políticos y fechas conmemorativas, siendo también partícipe en logros colectivos tan determinantes como el acceso universal al tratamiento antirretroviral y la Ley de Sida en Chile. Sus primeras acciones transitan en encuentros de organizaciones culturales o activistas, en fiestas under y espacios contraculturales y autogestionados de Concepción, interrelacionando activismo político y producción de arte, contextualizado por el horror y ausencia de sus amigos más cercanos, fallecidos a causa del sida.
Desde el Biobío, la producción visual de Moscoso se ha desplazado desde el underground a diversos espacios expositivos, tanto lugares públicos como institucionales (museos, galerías de arte y centros culturales), participando con obras y exposiciones en la Pinacoteca de la U. de Concepción, en el Museo Nacional de Bellas Artes en Santiago de Chile, y en muestras en España y Ecuador, siendo una invitación apelativa a reflexionar en torno a la posibilidad relacional de las artes visuales, realizando un cruce entre arte y política que demanda el contexto social en el que se encuentra Chile en el siglo XXI, activando diálogos críticos con los contextos locales y problemáticas territoriales, como también generando un cuestionamiento a los poderes dominantes, instituciones eclesiásticas, al Estado y al sistema capitalista, activando la memoria personal y colectiva, nuestras heridas históricas y añoranzas como sociedad.
Read Less Read More