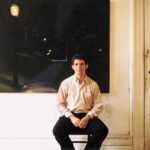 Gustavo Ojeda (September 8, 1958 – August 23, 1989) was a 20th-century Cuban-American painter. Ojeda was born in Havana, Cuba but emigrated to Spain, and eventually to Virginia, under exile from Castro's ascendence into power in Cuba. At 17, he moved to New York City to attend Parsons School of Design. Upon graduation, he was awarded the Cintas Fellowship for Cuban artists which allowed him to continue his work in Spain. It was in Madrid where he began to experiment with nightscapes, a mode which predominates much of his work and for which he is most known.
After returning to New York City, where he spent the rest of his life, Ojeda mounted several solo shows (at Seventeenth Street Gallery, Michael Kohn Gallery, MoMA PS1, David Beitzel Gallery) and participated in many group shows throughout his life, alongside artists such as Jean-Michel Basquiat, Tom Bianchi, Bruno Ceccobelli (among others), and in cities as diverse as New York, Berlin, Miami, Los Angeles, and Chicago. As well, on return to the United States, he continued painting several cityscapes and nightscapes, but also experimented with a series of window paintings and a massive collection of face sketches.
In 1986, he was diagnosed with AIDS and his health began to fail him. He passed away in 1989 in New York City at the age of 30. His work is currently in the collections of several galleries in the United States, including the Smithsonian American Art Museum, the Jersey City Museum, and the David Beitzel Gallery, among others.

An Excess of Quiet: Selected Sketches by Gustavo Ojeda, 1979-1989
Forthcoming book releasing in November 2020, from Soberscove Press.
Edited by Gabriel Ojeda-Sagué and Erich Kessel Jr.
Estate managed by nephew Gabriel Ojeda-Sague.
Profile image: Gustavo Ojeda in 1982 in front of his painting, Central Park Evening, 1982. Courtesy of Gabriel Ojeda-Sagué and Francisco Ojeda
Read Less Read More