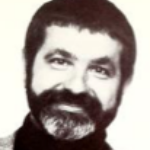 Harry Soviak attended the Cranbrook Academy of Art in Bloomfield Hills, Michigan, where he received both his bachelor (1957) and master (1959) degrees in painting. According to Thomas Stearns, then a fellow student and later a colleague at PCA, two 'schools' of painting existed at Cranbrook: the realists, under the tutelage of Zoltan Sepeshy, and the abstract expressionists lead by Fred Mitchell. Mitchell's camp had Harry's allegiance and fostered his work in this style along with his innate ability with color.
Under the sponsorship of the American government's Latin American Program, Soviak worked in Haiti from 1958 to 1959, where he taught painting and drawing at the American Embassy and Le Centre d'Art in Port-au-Prince. On his return to Cranbrook, his work demonstrated an upgrading of color and a greater interest in the simplification of form. Stearns recalls a "vivid and amazing group of collage constructions, assembled of matchboxes, spools, cut andtorn paper," which Soviak produced during his fellowship.
Upon graduation Soviak moved to New York City, where he found employment in the textile industry as a rug designer for Dorothy Liebes Design (1959-61) and as a fabric designer for Jack Lenor Larsen. Soviak first came to the Philadelphia Colleges of the Arts as a visiting lecturer in design (1961-62) as part of his association with Jack Lenor Larsen, who had been Director of PCA's Fabric Design department. Ruben Eshkanian, Larsen's successor at PCA, became further familiar with Soviak's work in textile and hired him as an instructor in 1963. He served the department for eight years, before shifting to the Painting/Drawing department where he taught until his death from AIDS-related complications in 1984.
This tribute page was created by Visual AIDS.
Read Less Read More
"I don't like to be depressed when I go to a gallery or museum. 
I don't want to be reminded of all the stuff that we have to deal with everyday, that we read about and hear about. 
Painting is an opportunity for us to make things better, allow us to have a better time or a better experience. 
I am interested in that in my work. I want my work to bring that to people. I want to give people a lift with what I do... if I can." 

Harry Soviak in an interview with Bill Scott,Brooklyn, New York 
July 1978 
One - Person Exhibitions

1958
Le Centre d'Art, Port-au-Prince, Haiti

1964
Richard Feigen Gallery, Chicago
Feigen/Herbert Gallery, New York
1967
Richard Feigen Gallery, New York
Wooster School, Danbury, Connecticut
1970
Richard Feigen Gallery, New York
Marian Locks Gallery, Philadelphia
1973
Marian Locks Gallery, Philadelphia
1976
Marian Locks Gallery, Philadelphia
1978
Marian Locks Gallery, Philadelphia
1980
Arthur Roger Gallery, New Orleans
1981
Marian Locks Gallery, Philadelphia
Orion Editions, New York
Arthur Rogers Gallery, New Orleans
1982
Pam Adler Gallery, New York
Meredith Gallery, Baltimore, Maryland
1983
Pam Adler Gallery, New York
Roger Ramsay Gallery, Chicago
1985
"Harry Soviak Memorial Retrospective, 1958-1984,
Pam Adler Gallery, New York
Selected Group Exhibitions
1958
Howard Wise Gallery, Cleveland, Ohio
1963
"New Media and Pop Art," Albright-Knox Art
Gallery, Buffalo, New York
1964
Feigen/Palmer Gallery, Los Angeles
The Wilmington Society of Fine Arts, Delaware
1965
"The Box Show," Byron Gallery, New York
"A New York Collector Selects," The San Francisco
Museum of Modern Art, California
Daniels Gallery, New York
"White on White," The DeCordova Museum, Lincoln,
Massachusetts
1966
"Art in the Mirror," The Museum of Modern Art,
New York (traveling exhibition circulated through 1968)
"Drawings, New York, 1966," Richard Feigen
Gallery, Chicago
1967
"Art in Process - The Development
of Collage," Finch College Museum of Art,
New York (traveling exhibition circulated by the
American Federation of the Arts through 1968)
"Five Artists Show Collage," Gertrude Kasle
Gallery, Detroit
1968
Contemporary Arts Center, Cincinnati, Ohio
"Destruction Art," Finch College Museum of Art,
New York
"Drawings, New York, 1968," Richard Feigen
Gallery, Chicago
"Paper Is," Monmouth Museum, Lincroft, New Jersey
The University of Puerto Rico, San Juan
1969
A.B. Clossen, Jr., Co., Cincinnati, Ohio
"Combine Works," School of Visual Arts,
New York
Richard Feigen Gallery, Chicago
1970
Richard Feigen Gallery, New York
The New Jersey State Museum, Trenton
"New York Correspondence School," Whitney
Museum of American Art, New York
Philadelphia Museum of Art, Pennsylvania
1971
"Fur and Feathers," Museum of Contemporary
Crafts, New York
Gallery Marc, Washington, DC
Marian Locks Gallery, Philadelphia
The Philadelphia Art Alliance, Pennsylvania
White Chapel Art Gallery, London
Anna Maria Zwerner Gallery, Zurich
1974
The Philadelphia Art Alliance, Pennsylvania
1976
"40 Years of American Collage," Buecker
& Harpsicords, New York
1977
Buecker & Harpsicords, New York
Iran-American Society, Teheran
The New Jersey State Museum, Trenton
The- Sguibb Gallery, Princeton, New Jersey
1978
Genesis Galleries, New York
"Works on Paper", Moravian College,
Bethlehem, Pennsylvania
"Expressions: Earth Art III," Museum of
the Philadelphia Civic Center, Pennsylvania
Salisbury State College, Maryland
"In Celebration of Prints," The Philadelphia
Art Alliance, Pennsylvania
Millersville State College, Pennsylvania
"Still Life Today," Goddard-Riverside
Community Center, New York
1981
"Cross Country l81 - Artists Who Draw,"
Webster College, St. Louis, Missouri
"Emerging Perspectives," The Arts Gallery,
Baltimore, Maryland
Martha Tepper Contemporary Fine Arts,
West Newton, Massachusetts
1982
Pam Adler Gallery, New York
"Art on Paper," Weatherspoon Art Gallery,
Greensboro, North Carolina
"Contemporary Still Lifes," The Museum of
Modern Art, New York
"Energism," Arthur Roger Gallery, New Orleans
"Great Big Drawings," Roger Ramsay Gallery,
Chicago
"Great Big Drawings," University Club, Chicago
"Heroic Lyricism," The Tweed Art Gallery,
Plainfield, New Jersey
"Still Life/Interiors," Contemporary Arts
Center, New Orleans
"Twenty-One Artists," Carol Shapiro Gallery,
St. Louis, Missouri
1983
"Affects/Effects II Work by the Faculty of
the Philadelphia College of Art," Philadelphia
Colleges of the Arts, Pennsylvania
"Ceramic Forms in Art," Zim-Lerner Gallery,
New York
"Still Life Today," Goddard-Riverside Community
Center, New York
"Twenty Artists," Carol Shapiro Gallery, St. Louis,
Missouri
1983-84
"Twentieth Century American Watercolor,"
a traveling exhibition curated by Janice C. Oresman
and circulated by the Gallery Association
of New York State (Presented at Philadelphia Colleges
of the Arts, September-October 1983)
"The Decorative Continues," Pam Adler Gallery,
New York
"Flower as Image in Contemporary Art," Wave Hill,
The Bronx, New York
"Inaugural Exhibition," Pam Adler Gallery, New York