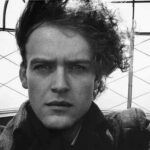 Hervé Guibert was a French novelist, photographer, photography critic, and video film maker who was born on December 14th, 1955 in Saint-Cloud nearby Paris, and died from AIDS on December 27th, 1991 in Paris. Guibert inaugurated the photography column in Le Monde in 1977, and remained in charge of it until 1985. As a journalist he wrote about and became acquainted with many artists, writers and philosophers, including Patrice Chéreau, Roland Barthes, Isabelle Adjani, Michel Foucault, Miquel Barceló, and Sophie Calle. As a photographer, Guibert exhibited at the Agathe Gaillard Gallery. His collection of texts in the first person about photography, L'Image fantôme (Ghost image, 1981), appeared around the same time as Roland Barthes's Chambre Claire (Camera lucida, 1980); these two publications were the first in France in which photography was written about in the first person.
After his first book, La Mort propagande, was published in 1977, he went on to write more than twenty-five novels and short narratives in the first person which are notable for their ambiguous relation to autobiography and fiction, many of which were published by Gallimard and Minuit.
Many of his novels are inspired by the theories of his close friend Michel Foucault (Des aveugles, or Blindsight), or by Sade's phantasmagorias (Vous m'avez fait former des fantômes). In 1990, Guibert's novel A l'ami qui ne m'a pas sauvé la vie (To the friend who did not save my life) brought him media acclaim and public notoriety. In the novel, Guibert tells the story of his everyday life as a person suffering from AIDS, and he describes the last months of a close friend's life, named Muzil, in whom one recognizes Michel Foucault. Because of the philosopher Michel Foucault's wish to keep his disease untold, the success of the book had partly to do with a series of polemics, often violent, concerning decency and shamelessness and the limits of literature. Guibert continued to write about his life and his AIDS in a series of other texts such as Le Protocole compassionnel (Compassion protocol), and he filmed himself during the last months of his life (La Pudeur ou l'impudeur), which was posthumously broadcast in 1992 on television.
Since his death in December 1991, a series of novels (L'Homme au chapeau rouge, or The man in the red hat, Le Paradis / Paradise), a hospitalization diary (Cytomégalovirus), a photography album (Photographies), a collection of his articles about photography (La Photo, inéluctablement, 1999), and finally his diary (Le Mausolée des amants, 2001) have been published, as well as a series of exhibitions of his photographic work through Europe (Lausanne, Madrid, Bilbao, Seville, and Brussels).
Read Less Read More